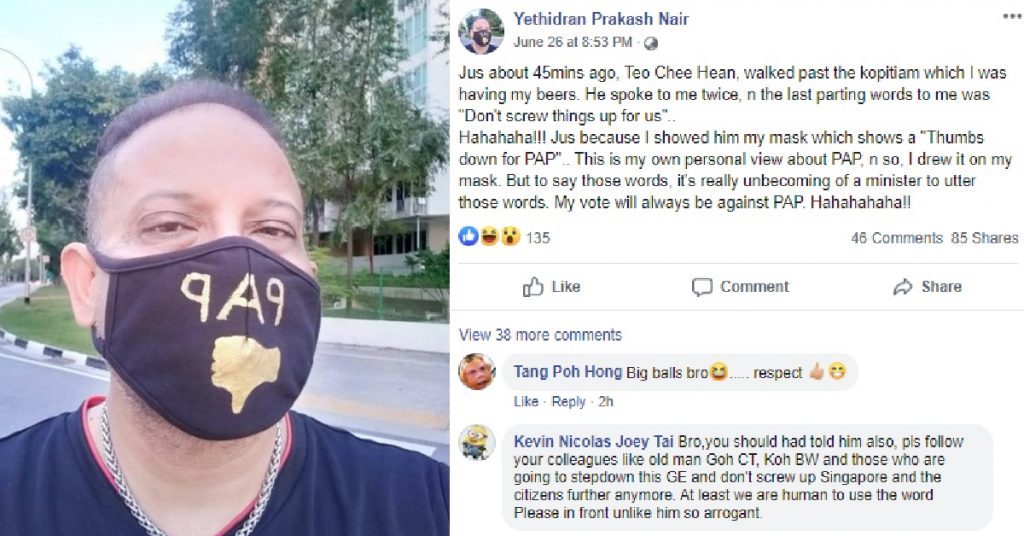 According to FB user Yethidran Prakash Nair, he was approached by Senior Minister Mr Teo Chee Hean while he was having a beer at a coffee shop. He then showed Mr Teo his self improvised mask with "Thumb down for PAP" drawn on it.
Upon seeing the mask, the man claims that Mr Teo Chee Hean return to him for the second time and told him that "Don't screw things up for us".
His 1st Post:
"Jus about 45mins ago, Teo Chee Hean, walked past the kopitiam which I was having my beers. He spoke to me twice, n the last parting words to me was "Don't screw things up for us"..
Hahahaha!!! Jus because I showed him my mask which shows a "Thumbs down for PAP".. This is my own personal view about PAP, n so, I drew it on my mask. But to say those words, it's really unbecoming of a minister to utter those words. My vote will always be against PAP. Hahahahaha!!"
The man also posted a video of Mr Teo Chee Hean speaking to him for the first time at the coffee shop.
His 2nd Post:
"This was the 1st round he came around to say his opinion.. sadly, I don't have the 2nd round video ( which he came back to me, hehehe!! Cannot tahan, so must come back lah. )…where I said in my post "unbecoming of a minister" n he uttered those words directed to me which I qouted in my posting. Oh well….hahahahaha!!"
Video Loading…