non Finance, non loan, non property, non banking, non credit card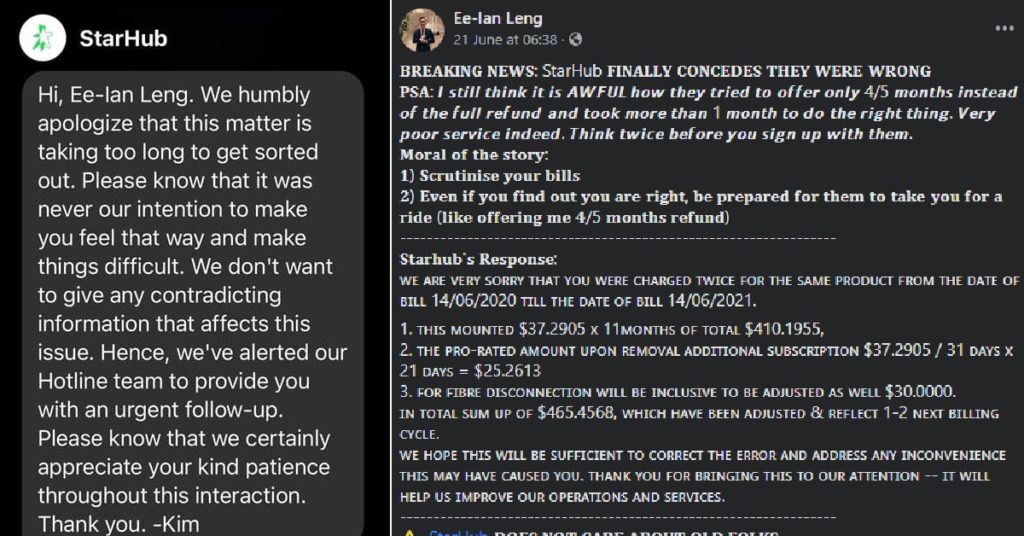 A Starhub customer shared a bad experience after his elderly grandmother paid 𝙛𝙤𝙧 𝙩𝙝𝙚 2 𝙞𝙣𝙩𝙚𝙧𝙣𝙚𝙩 𝙨𝙪𝙗𝙨𝙘𝙧𝙞𝙥𝙩𝙞𝙤𝙣𝙨 𝙙𝙚𝙨𝙥𝙞𝙩𝙚 𝙤𝙣𝙡𝙮 1 𝙨𝙚𝙧𝙫𝙞𝙘𝙚 𝙗𝙚𝙞𝙣𝙜 𝙥𝙧𝙤𝙫𝙞𝙙𝙚𝙙.
Here is the story
StarHub 𝐅𝐈𝐍𝐀𝐋𝐋𝐘 𝐂𝐎𝐍𝐂𝐄𝐃𝐄𝐒 𝐓𝐇𝐄𝐘 𝐖𝐄𝐑𝐄 𝐖𝐑𝐎𝐍𝐆
PSA:𝙄 𝙨𝙩𝙞𝙡𝙡 𝙩𝙝𝙞𝙣𝙠 𝙞𝙩 𝙞𝙨 𝘼𝙒𝙁𝙐𝙇 𝙝𝙤𝙬 𝙩𝙝𝙚𝙮 𝙩𝙧𝙞𝙚𝙙 𝙩𝙤 𝙤𝙛𝙛𝙚𝙧 𝙤𝙣𝙡𝙮 4/5 𝙢𝙤𝙣𝙩𝙝𝙨 𝙞𝙣𝙨𝙩𝙚𝙖𝙙 𝙤𝙛 𝙩𝙝𝙚 𝙛𝙪𝙡𝙡 𝙧𝙚𝙛𝙪𝙣𝙙 𝙖𝙣𝙙 𝙩𝙤𝙤𝙠 𝙢𝙤𝙧𝙚 𝙩𝙝𝙖𝙣 1 𝙢𝙤𝙣𝙩𝙝 𝙩𝙤 𝙙𝙤 𝙩𝙝𝙚 𝙧𝙞𝙜𝙝𝙩 𝙩𝙝𝙞𝙣𝙜. 𝙑𝙚𝙧𝙮 𝙥𝙤𝙤𝙧 𝙨𝙚𝙧𝙫𝙞𝙘𝙚 𝙞𝙣𝙙𝙚𝙚𝙙. 𝙏𝙝𝙞𝙣𝙠 𝙩𝙬𝙞𝙘𝙚 𝙗𝙚𝙛𝙤𝙧𝙚 𝙮𝙤𝙪 𝙨𝙞𝙜𝙣 𝙪𝙥 𝙬𝙞𝙩𝙝 𝙩𝙝𝙚𝙢.
𝐌𝐨𝐫𝐚𝐥 𝐨𝐟 𝐭𝐡𝐞 𝐬𝐭𝐨𝐫𝐲:
𝟏) 𝐒𝐜𝐫𝐮𝐭𝐢𝐧𝐢𝐬𝐞 𝐲𝐨𝐮𝐫 𝐛𝐢𝐥𝐥𝐬
𝟐) 𝐄𝐯𝐞𝐧 𝐢𝐟 𝐲𝐨𝐮 𝐟𝐢𝐧𝐝 𝐨𝐮𝐭 𝐲𝐨𝐮 𝐚𝐫𝐞 𝐫𝐢𝐠𝐡𝐭, 𝐛𝐞 𝐩𝐫𝐞𝐩𝐚𝐫𝐞𝐝 𝐟𝐨𝐫 𝐭𝐡𝐞𝐦 𝐭𝐨 𝐭𝐚𝐤𝐞 𝐲𝐨𝐮 𝐟𝐨𝐫 𝐚 𝐫𝐢𝐝𝐞 (𝐥𝐢𝐤𝐞 𝐨𝐟𝐟𝐞𝐫𝐢𝐧𝐠 𝐦𝐞 𝟒/5 𝐦𝐨𝐧𝐭𝐡𝐬 𝐫𝐞𝐟𝐮𝐧𝐝)
𝐒𝐭𝐚𝐫𝐡𝐮𝐛'𝐬 𝐑𝐞𝐬𝐩𝐨𝐧𝐬𝐞:ᴡᴇ ᴀʀᴇ ᴠᴇʀʏ ꜱᴏʀʀʏ ᴛʜᴀᴛ ʏᴏᴜ ᴡᴇʀᴇ ᴄʜᴀʀɢᴇᴅ ᴛᴡɪᴄᴇ ꜰᴏʀ ᴛʜᴇ ꜱᴀᴍᴇ ᴘʀᴏᴅᴜᴄᴛ ꜰʀᴏᴍ ᴛʜᴇ ᴅᴀᴛᴇ ᴏꜰ ʙɪʟʟ 14/06/2020 ᴛɪʟʟ ᴛʜᴇ ᴅᴀᴛᴇ ᴏꜰ ʙɪʟʟ 14/06/2021.1. ᴛʜɪꜱ ᴍᴏᴜɴᴛᴇᴅ $37.2905 x 11ᴍᴏɴᴛʜꜱ ᴏꜰ ᴛᴏᴛᴀʟ $410.1955,2. ᴛʜᴇ ᴘʀᴏ-ʀᴀᴛᴇᴅ ᴀᴍᴏᴜɴᴛ ᴜᴘᴏɴ ʀᴇᴍᴏᴠᴀʟ ᴀᴅᴅɪᴛɪᴏɴᴀʟ ꜱᴜʙꜱᴄʀɪᴘᴛɪᴏɴ $37.2905 / 31 ᴅᴀʏꜱ x 21 ᴅᴀʏꜱ = $25.26133. ꜰᴏʀ ꜰɪʙʀᴇ ᴅɪꜱᴄᴏɴɴᴇᴄᴛɪᴏɴ ᴡɪʟʟ ʙᴇ ɪɴᴄʟᴜꜱɪᴠᴇ ᴛᴏ ʙᴇ ᴀᴅᴊᴜꜱᴛᴇᴅ ᴀꜱ ᴡᴇʟʟ $30.0000.ɪɴ ᴛᴏᴛᴀʟ ꜱᴜᴍ ᴜᴘ ᴏꜰ $465.4568, ᴡʜɪᴄʜ ʜᴀᴠᴇ ʙᴇᴇɴ ᴀᴅᴊᴜꜱᴛᴇᴅ & ʀᴇꜰʟᴇᴄᴛ 1-2 ɴᴇxᴛ ʙɪʟʟɪɴɢ ᴄʏᴄʟᴇ.ᴡᴇ ʜᴏᴘᴇ ᴛʜɪꜱ ᴡɪʟʟ ʙᴇ ꜱᴜꜰꜰɪᴄɪᴇɴᴛ ᴛᴏ ᴄᴏʀʀᴇᴄᴛ ᴛʜᴇ ᴇʀʀᴏʀ ᴀɴᴅ ᴀᴅᴅʀᴇꜱꜱ ᴀɴʏ ɪɴᴄᴏɴᴠᴇɴɪᴇɴᴄᴇ ᴛʜɪꜱ ᴍᴀʏ ʜᴀᴠᴇ ᴄᴀᴜꜱᴇᴅ ʏᴏᴜ. ᴛʜᴀɴᴋ ʏᴏᴜ ꜰᴏʀ ʙʀɪɴɢɪɴɢ ᴛʜɪꜱ ᴛᴏ ᴏᴜʀ ᴀᴛᴛᴇɴᴛɪᴏɴ — ɪᴛ ᴡɪʟʟ ʜᴇʟᴘ ᴜꜱ ɪᴍᴘʀᴏᴠᴇ ᴏᴜʀ ᴏᴘᴇʀᴀᴛɪᴏɴꜱ ᴀɴᴅ ꜱᴇʀᴠɪᴄᴇꜱ.—————————————————————–
StarHub 𝐃𝐎𝐄𝐒 𝐍𝐎𝐓 𝐂𝐀𝐑𝐄 𝐀𝐁𝐎𝐔𝐓 𝐎𝐋𝐃 𝐅𝐎𝐋𝐊𝐒
Hi everyone,𝐈𝐟 𝐲𝐨𝐮'𝐫𝐞 𝐥𝐨𝐨𝐤𝐢𝐧𝐠 𝐟𝐨𝐫 𝐚 𝐡𝐨𝐫𝐫𝐨𝐫 𝐬𝐭𝐨𝐫𝐲, 𝐥𝐨𝐨𝐤 𝐧𝐨 𝐟𝐮𝐭𝐡𝐞𝐫! I would just like to share my (and my 75yo grandmother's) experience with StarHub.Previously, she had standalone internet plan (signed May 2018; contract expired May 2020). After that, she signed up for a HomeHub package in August 2019. 𝙏𝙝𝙞𝙨 𝙢𝙚𝙖𝙣𝙩 𝙩𝙝𝙖𝙩 𝙬𝙚 𝙝𝙖𝙙 "𝙤𝙫𝙚𝙧𝙡𝙖𝙥" 𝙛𝙤𝙧 𝙞𝙣𝙩𝙚𝙧𝙣𝙚𝙩 𝙨𝙪𝙗𝙨𝙘𝙧𝙞𝙥𝙩𝙞𝙤𝙣 𝙛𝙧𝙤𝙢 𝘼𝙪𝙜𝙪𝙨𝙩 2019 𝙩𝙞𝙡𝙡 𝙈𝙖𝙮 2020. 𝙏𝙝𝙖𝙩 𝙄 𝙪𝙣𝙙𝙚𝙧𝙨𝙩𝙤𝙤𝙙 𝙖𝙨 𝙬𝙚 𝙝𝙖𝙙 𝙖 𝙘𝙤𝙣𝙩𝙧𝙖𝙘𝙩.𝙊𝙪𝙧 𝙙𝙞𝙨𝙥𝙪𝙩𝙚 𝙬𝙞𝙩𝙝 𝙩𝙝𝙚𝙢 𝙞𝙨 𝙩𝙝𝙚 12 𝙢𝙤𝙣𝙩𝙝𝙨 𝙖𝙛𝙩𝙚𝙧 𝙩𝙝𝙚 𝙘𝙤𝙣𝙩𝙧𝙖𝙘𝙩 𝙝𝙖𝙙 𝙚𝙭𝙥𝙞𝙧𝙚𝙙 𝙛𝙧𝙤𝙢 𝙈𝙖𝙮 2020. 𝙉𝙤 𝙣𝙤𝙩𝙞𝙛𝙞𝙘𝙖𝙩𝙞𝙤𝙣 𝙤𝙛 𝙘𝙤𝙣𝙩𝙧𝙖𝙘𝙩 𝙚𝙭𝙥𝙞𝙧𝙮 𝙬𝙖𝙨 𝙜𝙞𝙫𝙚𝙣 𝙖𝙣𝙙 𝙢𝙮 𝙜𝙧𝙖𝙣𝙙𝙢𝙤𝙩𝙝𝙚𝙧 𝙘𝙤𝙣𝙩𝙞𝙣𝙪𝙚𝙙 𝙩𝙤 𝙥𝙖𝙮 𝙛𝙤𝙧 𝙩𝙝𝙚 2 𝙞𝙣𝙩𝙚𝙧𝙣𝙚𝙩 𝙨𝙪𝙗𝙨𝙘𝙧𝙞𝙥𝙩𝙞𝙤𝙣𝙨 𝙙𝙚𝙨𝙥𝙞𝙩𝙚 𝙤𝙣𝙡𝙮 1 𝙨𝙚𝙧𝙫𝙞𝙘𝙚 𝙗𝙚𝙞𝙣𝙜 𝙥𝙧𝙤𝙫𝙞𝙙𝙚𝙙.I have been back and forth with their customer service for the last month about this issue and this is what they have said:At first, they claimed they couldn't cancel the standalone out of contract subscription because she "𝐡𝐚𝐝 𝐧𝐨𝐭 𝐫𝐞𝐭𝐮𝐫𝐧𝐞𝐝 𝐭𝐡𝐞 𝐦𝐨𝐝𝐞𝐦" as it could not be found on their inventory and we would have to pay a loss and damaged fee of $200 to cancel the subscription. I informed them a technician had came earlier and swapped devices. 𝐀𝐟𝐭𝐞𝐫 𝐜𝐡𝐞𝐜𝐤𝐢𝐧𝐠, 𝐢𝐭 𝐬𝐨𝐦𝐞𝐡𝐨𝐰 "𝐚𝐩𝐩𝐞𝐚𝐫𝐞𝐝" 𝐢𝐧 𝐭𝐡𝐞𝐢𝐫 𝐢𝐧𝐯𝐞𝐧𝐭𝐨𝐫𝐲 and finally they agreed to cancel the subscription. They also said they would seek authorisation for money paid after the contract had expired.I appealed on the ground that:1. My grandmother is 𝟕𝟓 𝐘𝐄𝐀𝐑𝐒 𝐎𝐋𝐃, 2. 𝐍𝐨 𝐬𝐞𝐫𝐯𝐢𝐜𝐞𝐬 𝐰𝐞𝐫𝐞 𝐫𝐞𝐧𝐝𝐞𝐫𝐞𝐝 𝐟𝐨𝐫 𝟏𝐲𝐫3. We would be more than 𝐡𝐚𝐩𝐩𝐲 𝐭𝐨 𝐜𝐨𝐧𝐭𝐢𝐧𝐮𝐞 𝐰𝐢𝐭𝐡 𝐒𝐭𝐚𝐫𝐇𝐮𝐛However, they dragged me back and forth for the last month with customer service agents who could only say "𝟒 𝐦𝐨𝐧𝐭𝐡𝐬 𝐢𝐬 𝐭𝐡𝐞 𝐦𝐚𝐱𝐢𝐦𝐮𝐦". I asked to speak to manager but they still gave me another customer service agent. In the call before last, I asked again and finally today a Service Manager finally called.I explained the situation once again and he explained "𝟓 𝐦𝐨𝐧𝐭𝐡𝐬 𝐢𝐬 𝐭𝐡𝐞 𝐦𝐚𝐱𝐢𝐦𝐮𝐦 𝐚𝐟𝐭𝐞𝐫 𝐬𝐩𝐞𝐚𝐤𝐢𝐧𝐠 𝐰𝐢𝐭𝐡 𝐮𝐩𝐩𝐞𝐫 𝐦𝐚𝐧𝐚𝐠𝐞𝐦𝐞𝐧𝐭 𝐚𝐧𝐝 𝐭𝐡𝐞𝐫𝐞 𝐰𝐢𝐥𝐥 𝐛𝐞 𝐧𝐨 𝐦𝐨𝐫𝐞 𝐞𝐬𝐜𝐚𝐥𝐚𝐭𝐢𝐨𝐧". He also said "customers must know their contract", basically blaming us and that they're unable to do anything further. All this while I was saying we would renew our contract if this issue could be settled.Clearly this says a few things about Starhub:1. They are 𝐏𝐑𝐄𝐃𝐀𝐓𝐎𝐑𝐘 in their charging – charges 1yr for no services provided2. They 𝐃𝐎 𝐍𝐎𝐓 𝐂𝐀𝐑𝐄 about customers – 8 months of subscription ($39.90 x 8 = $319.20) is worth more than future business3. They can't get their inventory right4. They have 𝐍𝐎 𝐂𝐎𝐌𝐏𝐀𝐒𝐒𝐈𝐎𝐍 – $300 is worth more to a 75yo retiree than a greedy corporation but hey StarHub thinks otherwiseYes before you say, we should have been aware of the contract and it's expiry. 𝗛𝗼𝘄𝗲𝘃𝗲𝗿, 𝗰𝗼𝘂𝗹𝗱 𝘁𝗵𝗲𝘆 𝗻𝗼𝘁 𝗵𝗮𝘃𝗲 𝗮 𝗯𝗶𝘁 𝗼𝗳 𝗰𝗼𝗺𝗺𝗼𝗻 𝘀𝗲𝗻𝘀𝗲, 𝗰𝗼𝗺𝗽𝗮𝘀𝘀𝗶𝗼𝗻 𝗮𝗻𝗱 𝗯𝗲 𝗮 𝗹𝗶𝘁𝘁𝗹𝗲 𝗯𝗶𝘁 𝗺𝗼𝗿𝗲 𝘀𝗲𝗻𝘀𝗶𝘁𝗶𝘃𝗲 𝗴𝗶𝘃𝗲𝗻 𝘁𝗵𝗲 𝗳𝗮𝗰𝘁 𝗮 𝘀𝗲𝗻𝗶𝗼𝗿 𝗰𝗶𝘁𝗶𝘇𝗲𝗻 𝗶𝘀 𝗶𝗻𝘃𝗼𝗹𝘃𝗲𝗱?If anyone has any suggestions, please let me know I would sincerely appreciate it!
P.S. Please 𝐒𝐇𝐀𝐑𝐄 and 𝐂𝐇𝐄𝐂𝐊 𝐘𝐎𝐔𝐑 𝐎𝐖𝐍/𝐎𝐋𝐃 𝐅𝐎𝐋𝐊𝐒' 𝐁𝐈𝐋𝐋𝐒 so they don't get conned like us.Thanks for reading!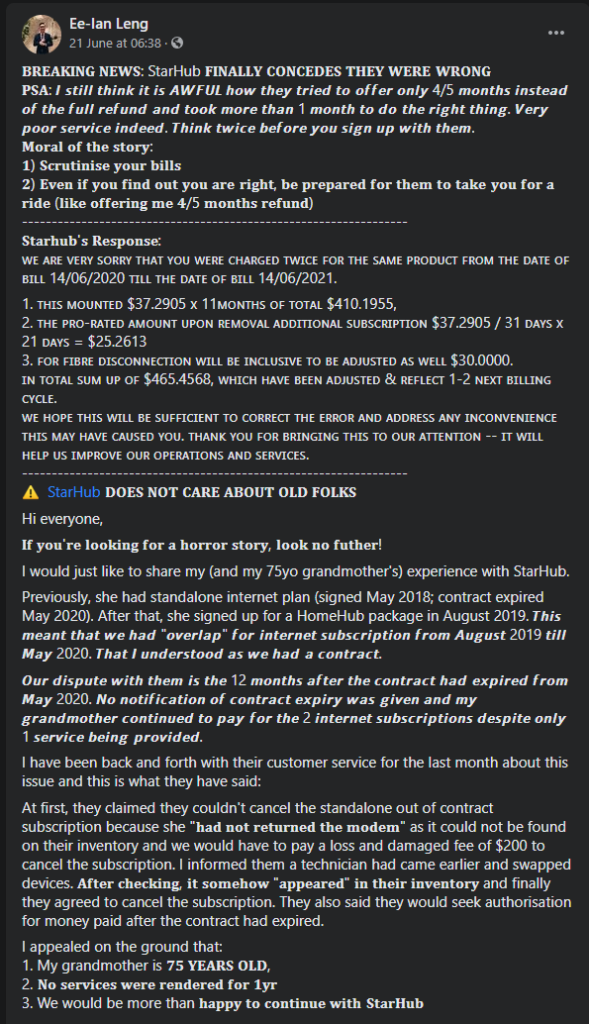 Source: Ee-lan leng