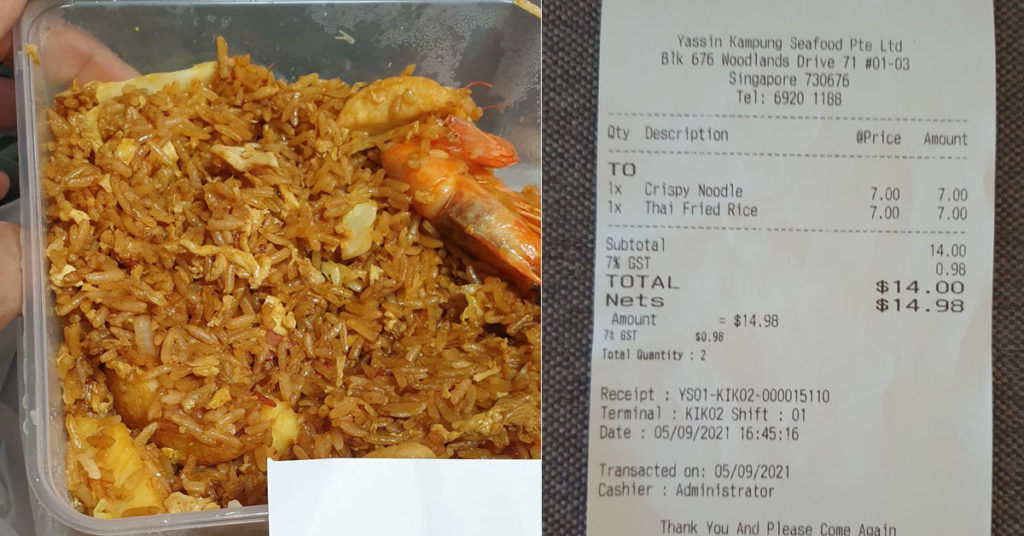 Update: Wow, this group responds very fast! I have called the restaurant to resolve the issue. But I thought I would leave this here. For people who have never encountered this situation, people with allergies have to put twice the effort for a meal. For those with allergies, you are not alone…I have attempted to reach out to Yassin Kampung Admiralty since Sunday evening via website, Facebook DM, email and even left a comment on their recent FB post – in hopes to nudge them to attend to my messages. It has been 4 days since the incident, and it is leaving a horribly sour taste in my mouth. I had hoped we could resolve this amicably but it seems they rather ignore me completely.
On 5 Sep 2021, I noticed a new order machine was installed at the restaurant entrance for takeaways. Previously, I would order with the cashier who could enter remarks in the orders. Even for dine-in, their iPads could capture remarks so that I could indicate my allergies in the food orders. When attempting to place my takeaway order, I told the server at the cashier it couldn't customize my order. Server said he would relay my customized order to kitchen, so just proceed to make order and payment at the machine. I ordered Crispy Noodle & Thai Fried Rice (No Egg No Chicken). 15 mins later, my Thai Fried Rice came out with egg when I checked on the spot. I told server and he took my container and said he would ask kitchen to make a fresh order for me. Another 15mins later, he passed me another container. When I checked, I could still see specks of egg, but I couldn't make it out unless I dug through the rice. Server said he CONFIRMED there was no egg this time. He sounded a bit agitated with me, and hearing his confirmation, I left. I went home and dug through the container – and to my horror, it did have egg inside! I COULDN'T consume it at all because I'm ALLERGIC to POULTRY!
I am horribly disappointed because I don't live nearby to the restaurant to easily go back to it. It is a restaurant and not a hawker, therefore there must be some standards to justify their charges. I waited half an hour for my order – but both times they came out wrong. I frequently bought food from this restaurant for my family, and after travelling the long distance, there was nothing in the bag that I could eat!
I felt very little after the incident and wanted to cry, because after a long day, it felt I didn't deserve to have dinner simply because I was allergic to eggs. I wanted the restaurant to at least respond to me that they would update their order system. Completely ignoring me as though they aren't savvy enough to attend to emails and FB messages – but able to create FB content and having technology in the restaurant – completely shows that 1 customer means nothing to them.
If you zoom in my photo, you will be able to see the egg texture found with the fried rice.