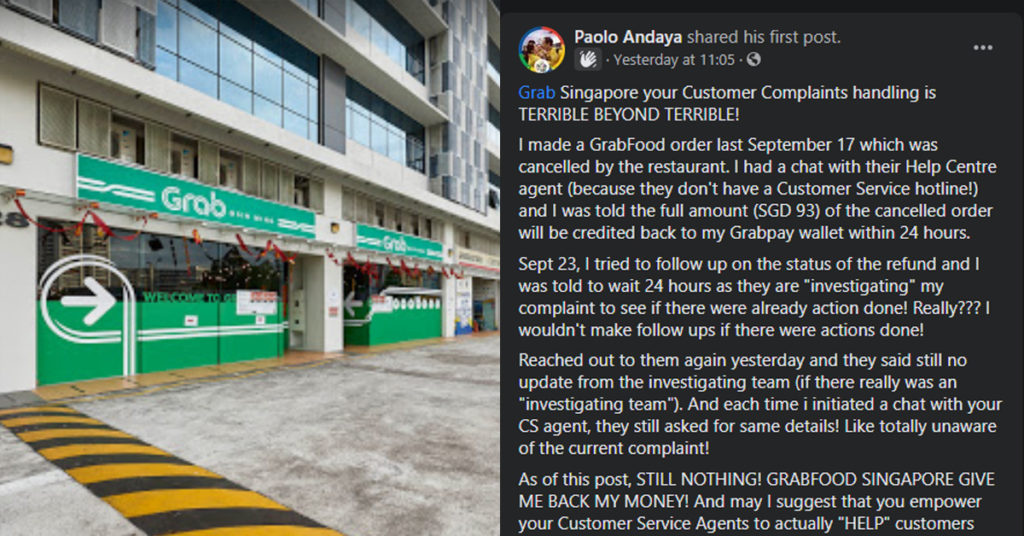 Grab Singapore your Customer Complaints handling is TERRIBLE BEYOND TERRIBLE!
I made a GrabFood order last September 17 which was cancelled by the restaurant. I had a chat with their Help Centre agent (because they don't have a Customer Service hotline!) and I was told the full amount (SGD 93) of the cancelled order will be credited back to my Grabpay wallet within 24 hours.
Sept 23, I tried to follow up on the status of the refund and I was told to wait 24 hours as they are "investigating" my complaint to see if there were already action done! Really??? I wouldn't make follow ups if there were actions done!
Reached out to them again yesterday and they said still no update from the investigating team (if there really was an "investigating team"). And each time i initiated a chat with your CS agent, they still asked for same details! Like totally unaware of the current complaint!
As of this post, STILL NOTHING! GRABFOOD SINGAPORE GIVE ME BACK MY MONEY! And may I suggest that you empower your Customer Service Agents to actually "HELP" customers rather than try to pacify irate customers!