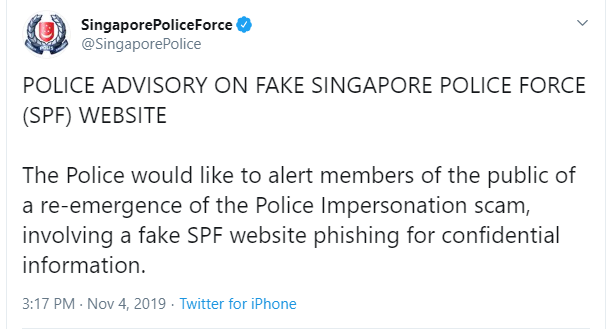 Please take note of fake Singapore Police Force websites that are out to scam. Fake SPF websites have been around since 2017 or earlier, as we have reported this issue over 7 times in the past two years.
The real police website will never seek the public to key in personal information or credit card information.
There have been cases of fake SPF website asking to pay large sums of money as a "fine". Or use the name of SPF to scare people.
IT Experts Comments
Singapore Uncensored interviewed a web designing individual and told us that it is possible to create a fake website to steal information from the public in under 1 hour.
He also mentioned that there are organizations on the internet who specialize in this and "if the scammers wanted to. a new fake website can be launched every other hour."
POLICE ADVISORY ON FAKE SINGAPORE POLICE FORCE (SPF) WEBSITE

The Police would like to alert members of the public of a re-emergence of the Police Impersonation scam, involving a fake SPF website phishing for confidential information.

Text from Police Force