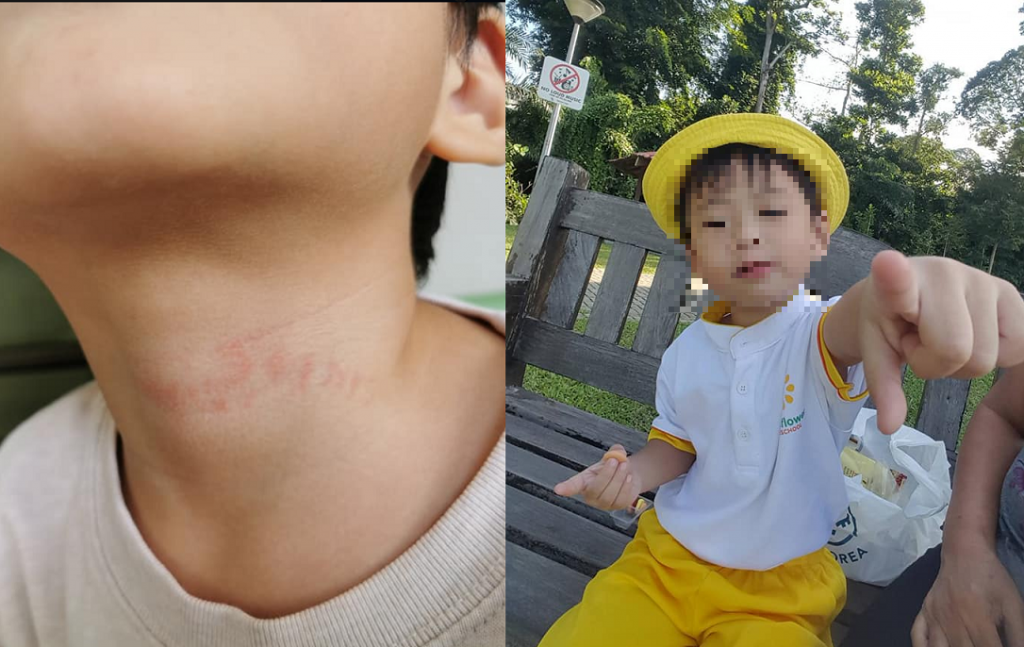 A mother reported that her child's child care center has abused her child. The mother is used a translator to express her concerns.
Please bear with the following text the mother is just trying to get help.
Facebook Post:
Hello everyone
My child was abused by a teacher at a school in Singapore. As a childcare named sunflower preschool, Address, Blk 745, Bedok Reservoir, # My son's name is Eden Lee Yan Jie, N1 class, my son is 3 years old, Singapore citizen.
I take my child to apply for school. Orphan Lesson 1 From 3 June 2019, my child can start studying for only 1 month.
Every 3 to 4 days back home, my child will have bruises, nails, scratches and wrinkles that The ear is a nail mark, and most recent is a bruise around the neck and has thick and deep traces.
Within 1 week the mark is still not healed. The trace was like a rope and was pulled in the neck, so I asked the teacher who supervised class N1, which my son was studying.
Which has 2 teachers, the first one is the Chinese teacher, the second is the male teacher, but the answer is that I don't see, until I can't stop wondering I then asked the class teacher to the point that my son did not take a shower. My son therefore had an allergic reaction to his throat, impossible !!, because I showered, brushed my teeth, washed my son every day, so I took my son to the doctor and checked on the day of the incident. ,
The doctor gave the report that my child was not allergic, but if being pulled by something like a rope or causing a mark around the neck
the feeling of a mother at that time was sore and stopper !, then finally called Looking for Principle, to see the CCTV of the school, but Principle say, will arrange Check the CCTV of the school, after 3 days later, Principle call me, she say, She already see CCTV of school, about this is Chinese teacher make this to my son, then I ask her for writing report about this to parent, can't keep quiet !, show attentions or show me how professional of your school !, until now October 2019, become 4 month, I still never hear anything or report from Principle! at all !!, and when
Day 2 In August 2019, I reported to my child who was attacked by a teacher, most recently the bedok reservoirs branch has checked into the school, but Principle said. To the police that I didn't know, didn't know anything at all, CCTV that day was broken, CCTV that day not ON !!, (clearly clear), so I complained to MOE And EDCA, until today, 4 months ago, everything is quiet. And no updates from various departments, whether family service bedok reservoir blk 133, or police My son IO, or MOE, or, EDCA, or Sun flower school blk 745 !!,
I have a picture of my son being hurt, I live and work in Singapore, if you think that I am a single mom, a Thai woman who only holds a Long Term card. Single person in Singapore And you can do with me and my children, pretend not to see, pretend to be quiet.
In case my child is abused by the teacher, I ask for cooperation from Thai people and friends. Every nationality in Singapore Help me share this post with awareness that Singapore law can still be trusted and fair for 3-year-old children being abused, threatened by teachers at childcare, and CCTV no on at childcare !!
How come can do this ?? , Now my son speaks, tells stories That he was strangled by the teacher, afraid of going to school, and he asked me to beat the teacher at the school that attacked him !! ,, I can not stand still So have to post In the alley, emphasizing that Singapore also gives justice to what happened to my son, thank you all for sharing. And translated,