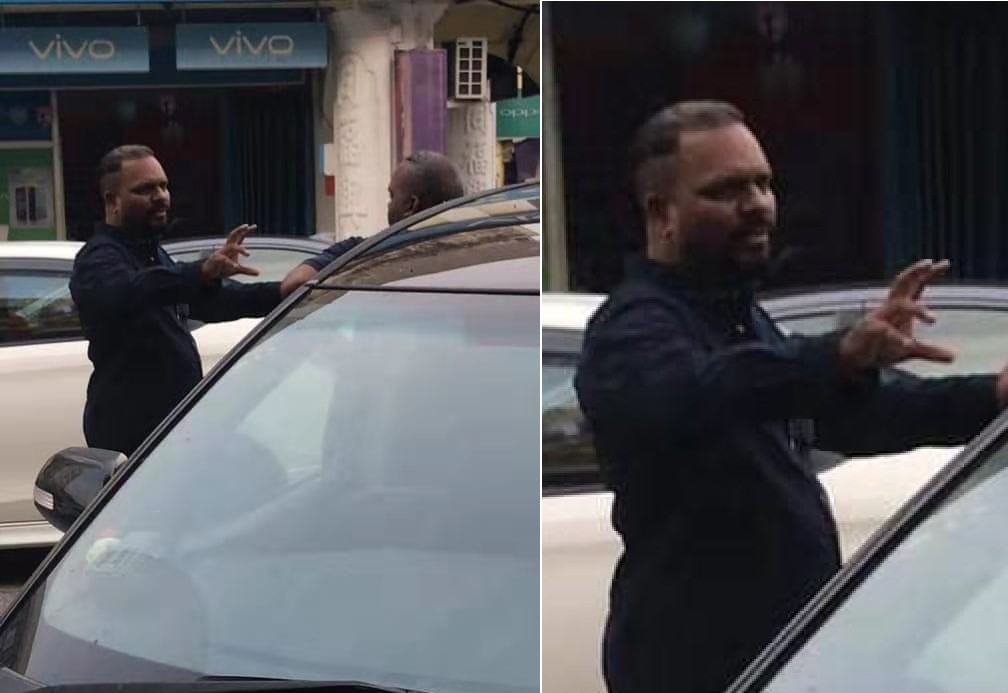 A man who just stepped out of a Maybank outlet located at Muar(Malaysia) was approached by two men dressed in black. They claim that they were custom officers and said that his vehicle does not have insurance and they will need to bring him to the Police station.
The man who was worried immediately called his parents and the parents warned that it might be a scam. She then told her son to verify the identity of the men before doing anything.
When the man asked the duo for identification cards, they produce a slip of paper and flick it in his face for a second. (How to see?)
RM4000 to settle the problem
They later told the man that they can settle the problem with a small fee, only RM4,000 will be enough to settle the fee, or his vehicle will be towed away and the Police will be here. The man then took advice from his mother and told the two scammers "ok lets wait for the police and tow truck to arrive".
RM100 also can
The man then told the scammers that he only has RM100. The two scammers then continued to threaten that they will have to "make trouble" for him if he does not pay up. They continuously mentioned that a tow truck and police will come soon.
Moments later, the scammers started to tell the man that RM500 is also enough to settle the problem. The man insists that he only has RM100, they can take it if they want to.
Finally the scammers told the man that they will accept the offer of RM100, this is when the man played smart and said now i only have RM30. The frustrated duo who could not scam the man quickly left the scene.
A大家请注意⚠️刚刚我儿子跟他女朋友在麻坡二马路,我儿子从Maybank银行出来….
有两个人身穿着便服样子似印度人,驾着mazda 深灰色【车牌 WA 7842 M】!声称自己是Kastam部门的人,说我儿子驾的车没保险;还说要拉车带我儿子进警察局!
我儿子就马上联络我跟我先生,我们跟对方言论一番后觉得不妥;因为我们要求对方拿出Kastam的证件!对方说不可以要拍照也说不可以,只拿出一张纸给我儿子瞄了几眼就收起来了。然后对方话题有提起要解决通常这样的问题需要4k。我儿子告诉对方我们没钱,身上只有一百你要就拿去。对方就说看我儿子还小想要给予帮忙可是帮忙费要4k。
最后我跟我儿子说绝对不能让对方拿到我们车的钥匙🔑也不能让对方上我们的车,最后我叫我儿子直接跟对方说就去警察局吧!对方说ok他们叫拖车的来拖车先,我儿子说拖车来我也要看到警察到!结果在银行外面等了10分钟,对方又叫我儿子打给我们!
我一直有跟我儿子保持联络,我说不要理他就等拖车跟警察来才说!最后对方不到一会有告诉我儿子,不然500解决问题!我儿子还是坚决说只有100罢了!多没有!过了一下子对方又在跟我儿子说不然100就100………我儿子直接告诉他没有了,因为刚才我已经banking给朋友还朋友钱;身上剩下30多块!最后对方知道没收获也没着落了就离开了…….
大家帮忙分享!别让其它朋友上当!大家也注意⚠️车的照片号码7有其中一张的照片,车牌是动过手脚粘着黑粘纸挡住了7那个号码!当时银行人来来往往,就有一个Auntie有跟我儿子他们提起;说这两个人在外面看我儿子他们蛮久了!
还叫我儿子他们自己小心点!所以现今的社会太恐怖了,大家帮忙多多分享!感恩!