National Geographic UK posted on Facebook showcasing an archival photo of Singapore's Gardens By The Bay, with a family from India walking through it.
However, they claimed in their Facebook post that was posted on 27 August, that Singapore is in Malaysia, much to the amusement of netizens.
They captioned their photo: "From the Archive: A family from India walks through the Gardens By The Bay in Singapore, Malaysia."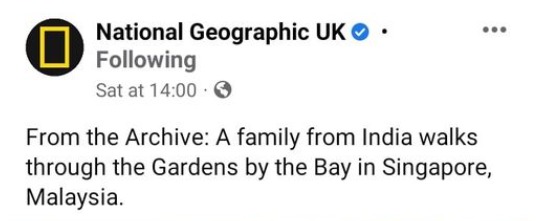 Tourism Malaysia then commented on National Geographic's Facebook post, clarifying that the Gardens By The Bay is Singapore, and posted a photo of the Petronas Twin Towers and saying "This is Malaysia".
Netizens then posted epic comments capitalising on National Geographic's "geography fail", mislabelling their own photos of well-known locations.
A netizen "welcomed" Singapore back to Malaysia, referencing Singapore's storied past as being a part of Malaysia before our independence.
Malaysian social media page MGAG also commented: "Technically not wrong if we're talking 50+ years ago"
Here are some of the notable ones