Like many people that do not like using coins, some retail shops also don't like it.
The 5-cent coin is often the most "hated" coin one can see in their purse or wallet. However, as much we want to get rid of it many shops put up signage and refused.
A netizen was shocked after seeing a coffee shop stall that refuses 5-cent coins. The shop even put up a notice stating that they do not accept 5 cent coins.
Here is what the netizen said: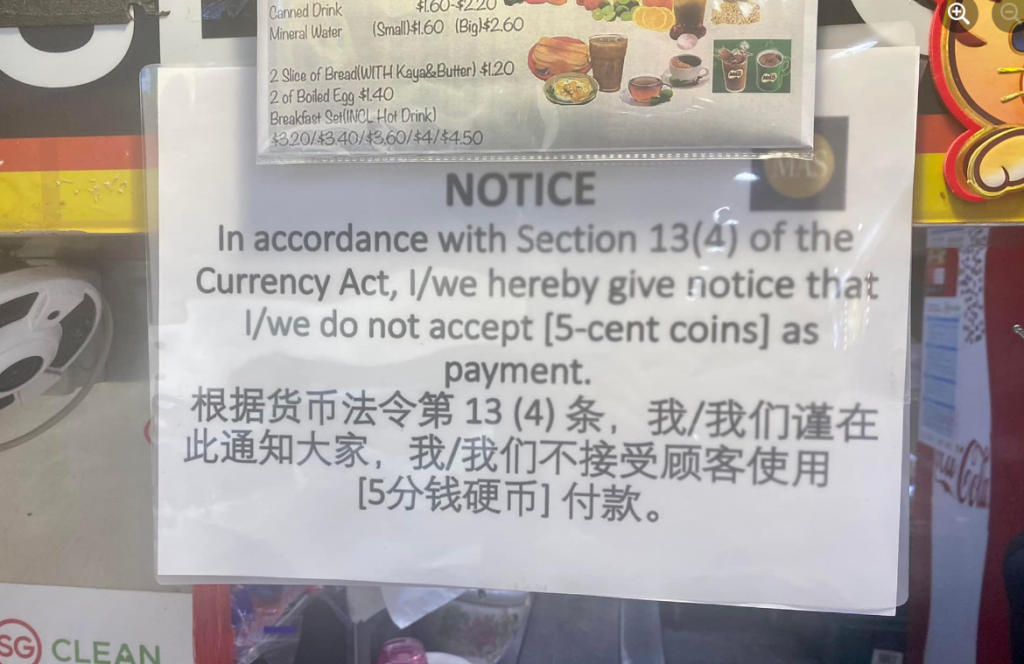 I paid $1.10 for coffee which included two 5 cents, but the coffee shop person said that they do not take 5 cent coin anymore. I heard about this practice, but this is my first time encountering it. Told the seller that some other retailer gave me the coins. Apparently if this is true, why do MAS still allow it's circulation or can we just hand over our 5 cents to a bank to be exchange for legal tender coins or notes? In addition, have they stopped producing 5 cents? Seems odd that the practice of accepting 5 cent is inconsistent among retailers. Just added a pic of their ref to the Act (statute)
Here are what netizens think:
I went to 711. The girl said 5 cents coins can only accept up to 20 cents. Said this is company policy. Don't know got smoke me or not?
the fact that 5 cents is circulating and there had been no announcement from the MAS, it's still legal tender. I believe this is a matter of preference on the part of the retailer
This trend started when 1 cents coin are not legal tender so some smart retailer decided they don't want to take the risk on 5 cents too
My husband a grab driver kena scolding by foreign indian cos he didnt have change of 5 cents
happened to me at Sim Lim SQ Broadway food court. I gave them $50, said no more other change. she accepted the two 5cent coins