A netizen shared an image of a note which was placed inside a lift of an unknown carpark.
The note was apparently pasted by an angry netizen who wants to tell a smoker who has been smoking inside the lift carriage to stop his or her actions.
The note reads:
"To the person who has been smoking in this lift daily at approx 8:30am – 9:30amll
Please note that smoking in here is PROHIBITED BY LAW and comes with a FINE.
There are cameras installed for monitoring and no one enjoys your smoke smell so light your cigarette in your own car.
I hope they find/fine you."
While we understand the plight of having to take a lift and endure the foul smoke smell sometimes, the smoker thinks otherwise.
A reply was seen under the note left by the netizen which we suspect is from the smoker.
It reads:
"Shadaap la!! ITS AN OFFENSE TO PASTE ADS. I'M SO SCARED!"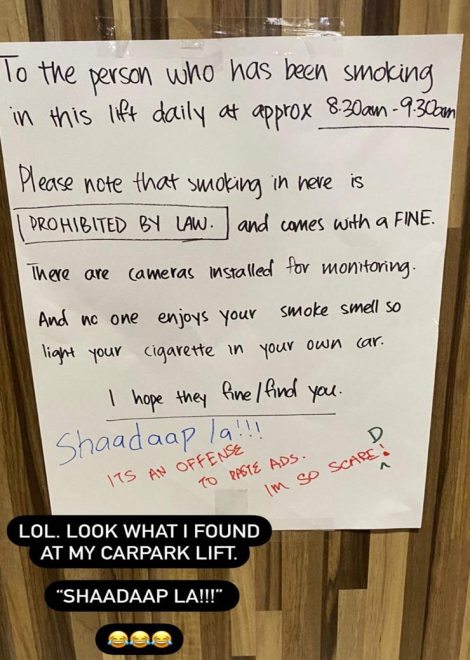 Smoking rules & fines in Singapore
According to the laws in Singapore, smoking is prohibited mainly in most indoor locations in Singapore.
Smokers who are caught flouting the rules are liable to a fine of $200, or even up to $1,000 if it becomes a court case.
Image source: Unsplash.com