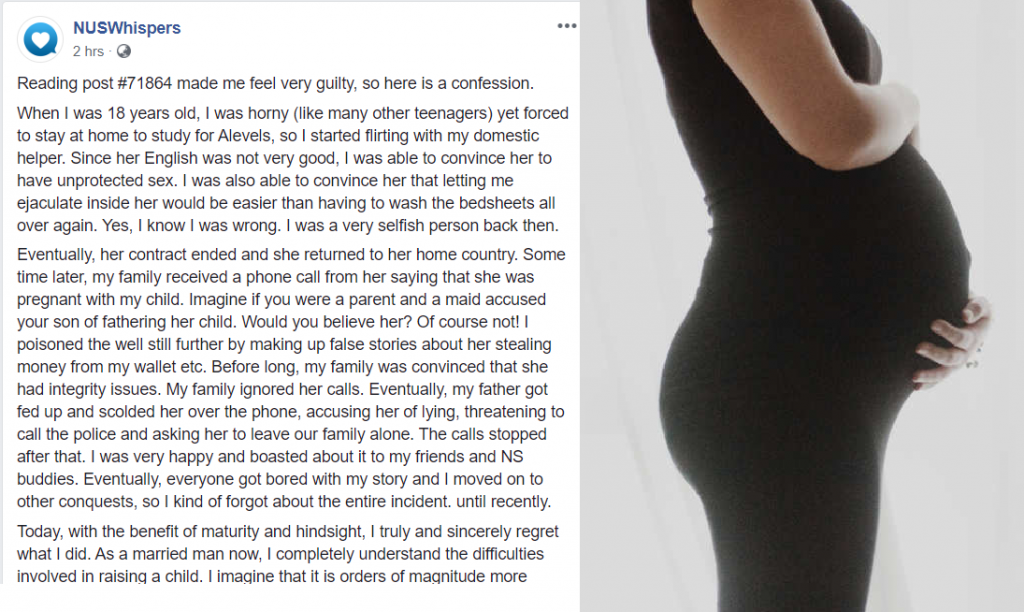 Reading post #71864 made me feel very guilty, so here is a confession.
When I was 18 years old, I was horny (like many other teenagers) yet forced to stay at home to study for A levels, so I started flirting with my domestic helper. Since her English was not very good, I was able to convince her to have unprotected sex. I was also able to convince her that letting me ejaculate inside her would be easier than having to wash the bed sheets all over again. Yes, I know I was wrong. I was a very selfish person back then.
Eventually, her contract ended and she returned to her home country. Sometime later, my family received a phone call from her saying that she was pregnant with my child. Imagine if you were a parent and a maid accused your son of fathering her child. Would you believe her? Of course not! I poisoned the well still further by making up false stories about her stealing money from my wallet etc. Before long, my family was convinced that she had integrity issues.
My family ignored her calls. Eventually, my father got fed up and scolded her over the phone, accusing her of lying, threatening to call the police and asking her to leave our family alone.
The calls stopped after that. I was very happy and boasted about it to my friends and NS buddies. Eventually, everyone got bored with my story and I moved on to other conquests, so I kind of forgot about the entire incident. until recently.
Today, with the benefit of maturity and hindsight, I truly and sincerely regret what I did. As a married man now, I completely understand the difficulties involved in raising a child. I imagine that it is orders of magnitude more difficult to raise a child as a single parent.
Originally, I intended to fly over to look at the child and confirm whether he is indeed mine before taking further action. However, on second thoughts, I realized that it doesn't matter whose child it is: I had done a grave wrong, so I should make compensation regardless.
In addition to a significant lump sum payment, I intend to also sponsor the child's accommodation, airfare and tuition fees if the child manages to get a place in NUS in a few year's time. And I will NOT do any paternity testing.
This post is a reminder to all the other guys on NUSWhispers to do the right thing and treat their women well.
–