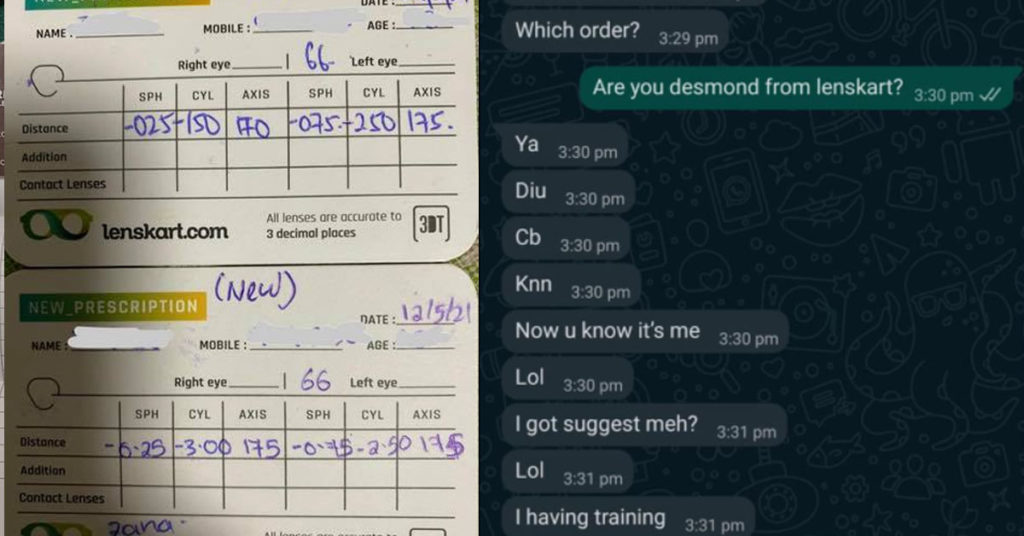 I would like to share an experience I had with Lenskart with the general public.
The Optician prescribed the wrong prescription to my husband and caused his eyes to be contantly teary while wearing his new specs.
His eyes were under extreme Stress that the optician on his second visit advised him to not wear his spectacle for one day to let the eyes rest. On the third visit the optician manage to finally give correct prescription, that is when we realised there was huge discrepency from first prescription to the correct prescription. As attached photos.
I wanted to provide feedback so I rang their customer service to with regards to the incorrect prescription and horrendous customer service experience, but before I could finish my sentence the Store Manager(Osman) at Junction 8 told me in a annoyed and impatient tone said "Listen,conversation is a two way communication!"
Obviously this further infuriated me and I asked to speak to his manager. His manager who is Business Support Manager(Desmond) then rang me. He told me the frame that my husband wanted is not available anymore and told me to browse the internet to find a new frame and to whatapp him with the one my husband wanted.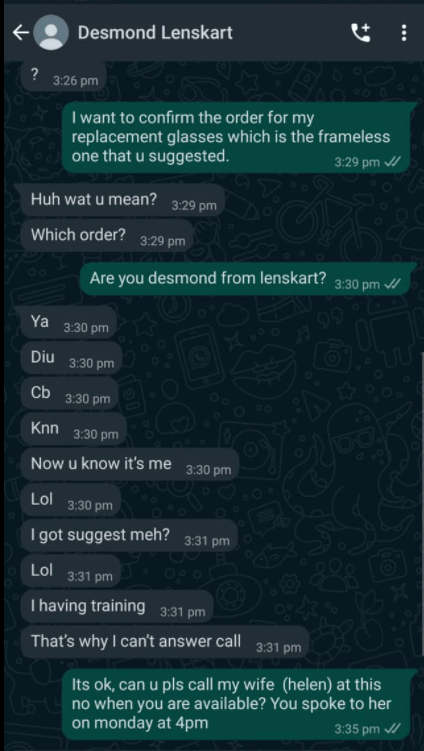 The feedback I wanted to provide are:
1. Store Manager(Osman)At Junction 8 who was rude.
2. A long-winded and cumbersome process which caused alot of confusion and availability of stock and delay in getting the glasses(2 mths after order was placed)
3. In the middle of placing final order as the initial glasses we wanted they dont have the stock any more)I was given a phone number via whatapp. When we send via Whatapp to place order the Business Support manager(Desmond) as per his request.It appears that the Business Support Manager(Desmond) mistook my husband Terence as his colleague and Desmond started bad mouth me with vulgarities and profanity as attached screenshot and deleted them after he realised he send whatapp messages to my husband.
I requested to speak to Desmond reporting manager, unfortunately another manager Lynne immediately rang me,she claims to be General manager she informed me that their business Whatapp number has been hacked. It was hacker who sent the messages.I told her to follow up on the case but I never hear anything back.
I followed up with Desmond, he said another operations manager Francis Low will ring me. Francis rang me but I was met with only laughter on his part. He only stopped after I informed him of the vulgarities sent to me.
And I asked him if someone send vulgarities is it a laughing matter?
Then he stopped laughing.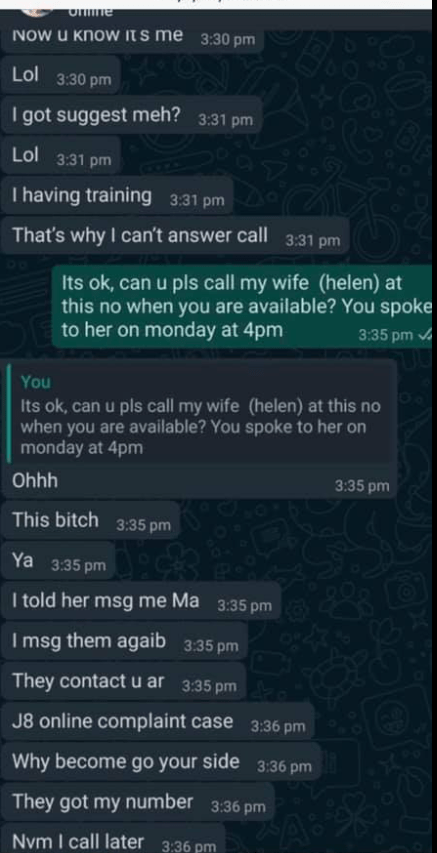 I spoke to few managers in Lenskart, from online manager to Store Manager and it seems everybody is a manager, I requested to speak to general manager as I am unhappy with how all the managers handled the situation until today they keep giving absurd responses to my request. Every time they apologised but in the end I met another ridiculous situation with them.
I wanted to speak to Lenskart general manager,who is Desmond reporting manager but until today no one responded to my email as attached email screenshot.