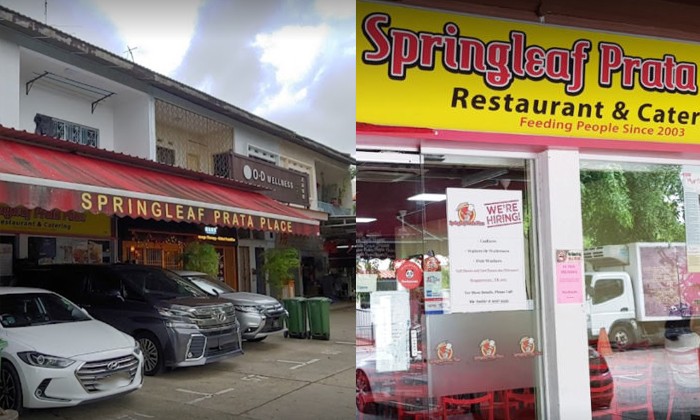 An update on my post last Sunday on Springleaf Prata:
Never in my wildest dream that I would have to be escorted out of the restaurant by the police!
So, I was naive enough to believe that Springleaf Prata Place is sincere to offer that meal as an apology
Especially before the meal, I was told that I have to delete all my post on my last experience – T&C DEMANDED even BEFORE they have rectified anything.
I did oblige to their request as I thought that 好来好去。
In fact, when I went for lunch today, I was all smiling and trying to make friendly talk with the manager, Shalom.
He wasn't keen in small talk.
No smile.
Business like.
Ask me to sit and he'll get the food.
OK, fine.
So we sat down. 1st came one lime juice and then 1 Alfredo.
So I asked if that's it. He asked me if I wanted to ordered anything else.
I was puzzled and said: u invited me back for a meal right?
And then he started to raise his voice. Saying that they only owed me a lime juice. He even threw in an Alfredo for free, what else do I want!
Gee!! Made me feels like a BEGGER!!
I had to show him what was written which he shouted that he was not aware. I hate to remind him that on the phone, he said he will treat me and my partner to a meal, anything we want!!
And yet we made no demand.
Anyway, when we were eating, he was staring at us, aiming his camera at us throughout the meal.
We got very uncomfortable and walked to him, asking if he is taking video or photo of us.
He suddenly turned to talk to his staff and claimed that he was too busy to talk to us (when for the last few minutes, he was staring at us and taking the phone high up to aim at us openly).
I requested to him nicely to show me his gallery which he turned away and ignore me
I texted Springleaf Prata Place to resolve the situation – my message was read but ignored.
Left with no choice, I called the police as the tension and atmosphere was getting very hostile.
Fearing of repercussions, the police escort us out of the restaurant as we were fearful of remaining in there after the police has left.
Lesson learnt: not all apologies are sincere.
Never will ever see us back at Springleaf Prata Place ever again!