China: On August 2, Hebei Province reported that at 11:53 AM that a man drove a car and knocked down a woman.
After the preliminary investigation, the suspect Zhang ran down his girlfriend Wang due to conflict and fled the scene. 
At about 3 o'clock in the afternoon, the man knocked down his girlfriend with a car, and drove back and crushed her body several times. The woman was sent to the hospital and died after rescue efforts were unsuccessful.
It can be seen from the video that the woman was first hit by the man's car and fell to the ground. After the woman fell to the ground, she was able to move. The man then drove over the woman's head.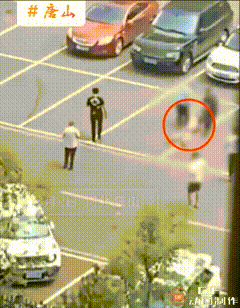 After that, a lot of onlookers came. The onlookers were afraid that the man would cause harm to the woman again, so they dragged the woman to a relatively safe place.
But the man didn't stop there. After he reversed the SUV, he adjusted the direction and accelerated again to hit the woman. The onlookers hurriedly dodged.
After the man drove over the woman again, he rammed a small white car away from the parking lot. He steered to the left, turned around, came back and crushed her body again, and so on. It can be clearly seen in the video that there are many wheel marks on the ground, and the picture is shocking.
After onlookers called the police and preliminary investigation by the police, the driver of the SUV was Zhang Moumou and the victim was his girlfriend Wang Moumou.
At about 3 pm that day, the criminal suspect Zhang Moumou has been arrested and brought to justice. Currently, the case is under further investigation.
After seeing the video, some netizens said that the person next to woman had already rescued her once, but unfortunately this man was mad and wanted to crush the woman at all costs, it was terrifying!