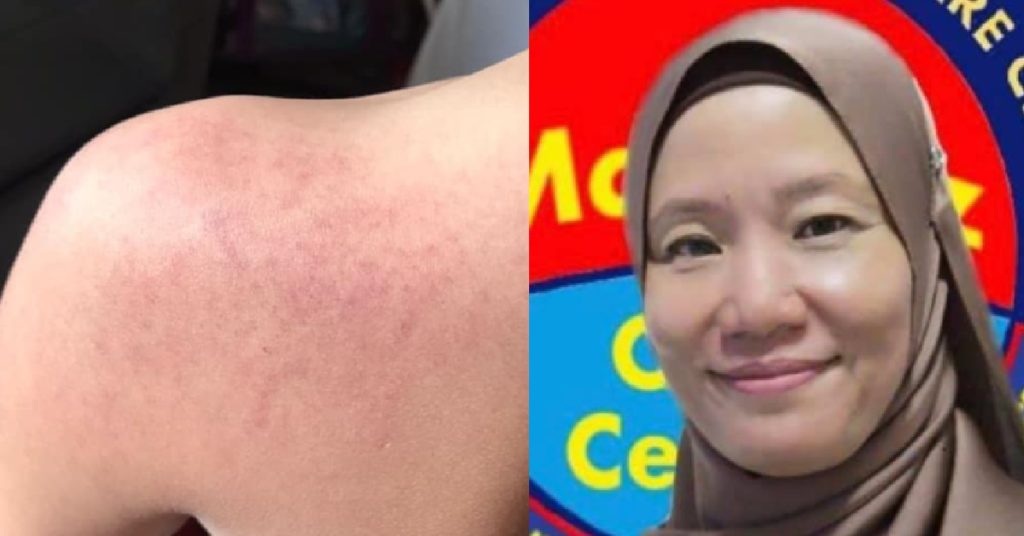 A Singaporean woman in Malaysia, Sharifah Mazlan, 51-years-old, was charged on 13 October for allegedly overstaying in Malaysia and abusing a 6-year-old boy who was autistic.
She pleaded not guilty to her charges.
She was the principal of Maikidz Care Centre in Selangor at the time of the alleged offence and the boy was a student at the centre.
She was arrested on 3 October.
The childcare centre was found by the Malaysian authorities to be operating on a license that had expired for 2 months.
Sharifah also purportedly overstayed with a social visit pass that had since expired.
Recap
The boy's father, Tengku Aminuddin Shafiq, shared photos and CCTV footage of his son's attack and bruises on Facebook and captioned his post:
"Assalamualaikum and Greetings,
I'm upset and very angry with what happened to my child last night. My child is a student at Maikidzcare Center Bandar Baru Ampang, Selangor. This Intervention Centre is dedicated to autistic children.
The incident which happened on the 1st October 2021, was truly unacceptable and we have lost trust in placing our child in the care of the Centre. My child, Tengku Noah is indeed an autistic boy and the reason we send him to this centre because of the representations given by the school.
We were made to believe by the representations given to us on their capabilities, skills and knowledge, and as the operator of the Centre that they are more well versed, capable and knowledgeable with the specialises skills and techniques in managing these special children.
We sent Noah to the Centre with the hope that our kid will be safe and will be well take care off. I have previously noted bruises on my son's body and face but I was always under the good impression that it could probably be due to Noah being too active at school, he could have accidently bumped his head at the wall etc. We trust the Centre.
After picking him back from school, when we saw these marks on my son's back, we knew for sure that these were not caused by him, couldn't have caused by him, this was forced on him. Your justification on my son not wanting to eat is not acceptable or sufficient to support the way you treated him.
My son from this video is clearly terrified of the teacher who was the Principal in the Centre, scared of what the teacher did and I didn't see any CCTV clips (that I was able to record and that I was not allowed to record and refuse to be pointed out back by the Center) that my son was rude. My child's fault is that he doesn't want to eat. Food was thrown out of the mouth again.
I don't think their actions dragged my child on the floor and injured my child as a reasonable act and yet a ridiculous act. I as a father who pays the monthly fee without fail, annoyed with their actions and asked if there is such service offered to us with a fee that is quite high by me. Is this a technique and how practiced by experts or an experienced person as warranted by the Centre, in handling autism children? By using violence? FYI, the perpetrator in this CCTV recording clip is the owner and CEO of Maikidz Intervention Center Sharifah binti Mazlan.
For other parents, I'm Tengku Noah's dad, wanted to share videos and photos of my son and what happened. My child was forced to eat because he was a ′′ picky eater ", this case has been extended to the Police and health checks (physical and internal) have been carried out by the Hospital and legal action has been taken by our side.
We regret to know from the Community Welfare Department that this Center does not get approved and license from JKM they operate illegally and trainers and teachers do not have licenses and qualifications in teaching Autism children.What I can't accept is when I ask for justification from their side, I have been asked among others to accept Divine provisions.
I couldn't take their actions and had to take proper action against the Centre. These kids are special and if they were treated this way, I wonder what the value of the belittles in these people. What about the fate of the other children?"
Source: Tengku Aminuddin Shafiq Facebook