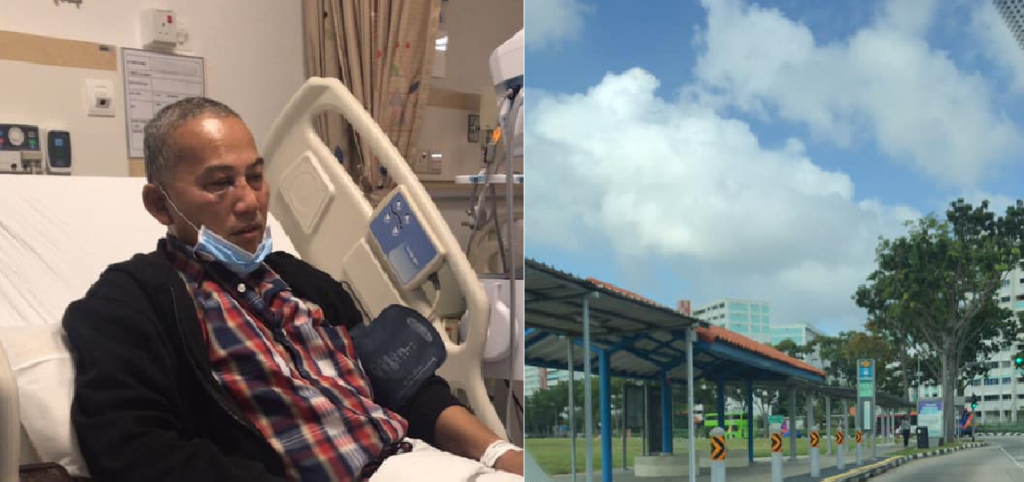 This morning, at 5:21am my mom woke me up to tell this sad and bad news happened to my father, there's this
1 Chinese guy,
Local chinese accent,
mids 30s,
tall and muscular build body,
golden coloured hair,
wearing white top,
blue jeans
and a pair of shoe
Attempted to rob my father during his tour of duty as a Taxi-Driver at Hougang Ave 6, Bus Stop at around 5am. My father picked him at Hougang bus interchange (Taxi-Stand Area). He mentioned that he wants to go to WRS Casino but forgot to take some stuffs take belongs to him. So my dad asked for his address and told my dad that he will lead and direct him the way.
After drove off from the pickup point, he told my dad to turn to left 3 times .. that leads to Hougang Ave 6, Bus Stop.. he abruptly gave my dad instruction to stop at the bus stop.
My dad made a stop at the bus stop and subsequently that chinese guy stranggled my dad from behind the driver seat using excessive force as my dad claimed that he felt choked. My dad struggled in the mids of being strangle and managed to bite that fucker's hand.
Subsequently, that chinese guy came out from the vehicle, open the driver door, pushed my dad's chest against the seat and started to punched my dad's face multiple times, approximately 4-5 times.
As infd by my dad, in the mids of that guy going out the vehicle, my dad tried to open the seat belt but unable to as he was abit weak and shocked at the same time that this happened to him.
After the few punches happened.. my dad are only able to pressed the horn button to seek help from other peoples around him. Sadly there's is no one around him at that particular timing. After my dad horn, he pulled my dad's away, switched off the engine, pulled out the key and throw it the car dashboard. Lastly, he immediately fleet from the scene left unseen from anyone.
My dad immediately call the police himself and within 10mins, they came to assist my poor dad.
My dad was sent to the nearest hospital for treatment by ambulance. Investigation Officer from Singapore Police Force came down and interviewed my dad pertaining to the incident.
Latest updates by doctors: my dad got fractured at his nose and rib cage due to the mishap that happened to him.. he will be warded to the hospital for further examine.
Help me to share this post to everyone and to create awareness
#StopTaxiDriverAbuse
#DontRobTaxiDriver
That driver can be someone's Husband, Father, GrandFather, Father-In-Law, Uncle or whatever you label him as.
Ps: if anyone happens to stay around that area and have any info please please step forward and inform the police.
2nd picture in the post is the exact location where my dad picked him up at 5am in the morning and the 3rd picture is one of the possible drop off location where the rob happened.
And to that guy who create this mess, Law and Justice is waiting for you. What goes around comes around. Prison is the best place for you to stay.