The Malaysian ringgit's value appears to be in jeopardy, as it is expected to fall further against our Singapore dollar and US dollars.
Analysts predict that the ringgit will continue to fall until US$1 is equal to RM5.
The data suggest that the ringgit might reach values between RM3.35 to RM3.45 against SGD$1 in the next 6 months.
What are the factors?
According to TNP news, The ringgit is expected to fall in value as the US dollar strengthens dramatically over the year. This is mostly because the US Federal Reserve raised interest rates to combat inflation.
The Singapore dollar has fallen by approximately 4.7% versus the US dollar in the last year, it has done well given that the US dollar has risen by roughly 18% relative to a broad basket of currencies
Malaysia's ringgit, which is at a 24-year low versus the dollar, is set to fall further on fears that a national election could fuel political risk and jeopardize the government's ability to pass a deficit-busting budget.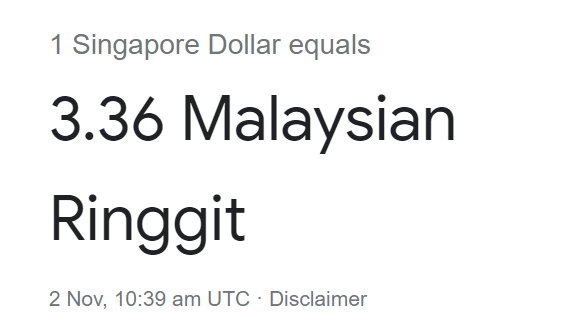 Last month, the ringgit broke through a support level at 4.50 per dollar as the US Federal Reserve's hawkish measures sparked a surge in the US dollar. The currency is now facing new headwinds after Prime Minister Ismail Sabri Yaakob dissolved parliament, clearing the door for a nationwide referendum in the next two months.
According to Bloomberg, Singapore emerging markets FX expert Galvin Chia believes the US dollar-ringgit exchange rate would reach 4.75 to 4.80 by the end of 2022.
The ringgit is presently worth 4.74 US dollars as of November 2, 2022.