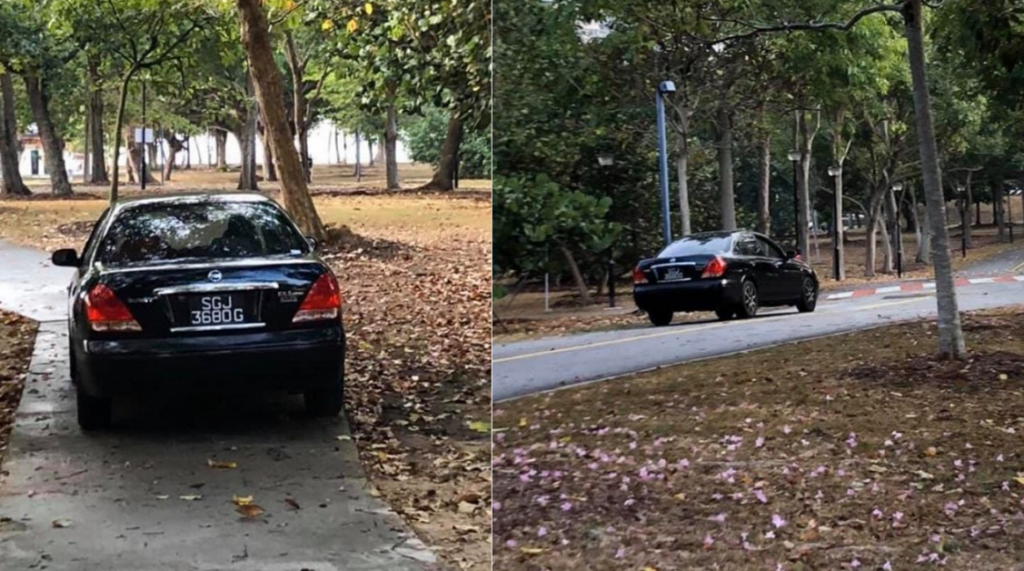 We everyday worry if will kana bang by PMD, this uncle took it to another level. He drove his car into East coast park.
Someone went to CSI the car, found out the car road tax finished, cannot drive on road then can drive pedestrian routes ah?
The best part of the story, the car full of ladies. Uncle ah you want mei mei to need to have PMD with techno playing "Crazy Baby".
Why ah?
Started my easy run on the running path this morning from carpark F2. As I approach the food village, a black car zoomed past on the cycling track.

Initial thoughts were that it might be a police patrol car but the fast speed at which the black car was going got me suspicious.

Decided to pick up my running pace to follow the car (obviously keeping a safe distance). After going pass the food village, the car took a round at the lagoon before slowing down on the side.

Took this opportunity to approach the car by the side and saw an uncle at the wheel with a car load of ppl (mainly ladies) behind. When questioned on his crazy drive on a crowded cycling/foot path, his answer was that he's trying to find his way out. Told him that he could have exited to the carpark (refer to Pic A) before the food village but he chose to speed past it. He didn't reply to my question and immediately drove away.

Worried that he might continue to pose a threat to park users, I followed behind with a safe distance and saw him exit to the carpark (refer to Pic B

Regardless of whether it's a genuine wrong turn into the park, the high speed which the car was going could seriously injure or even kill someone.

Used to worry about speeding PMDs, now must also worry about crazy uncles….