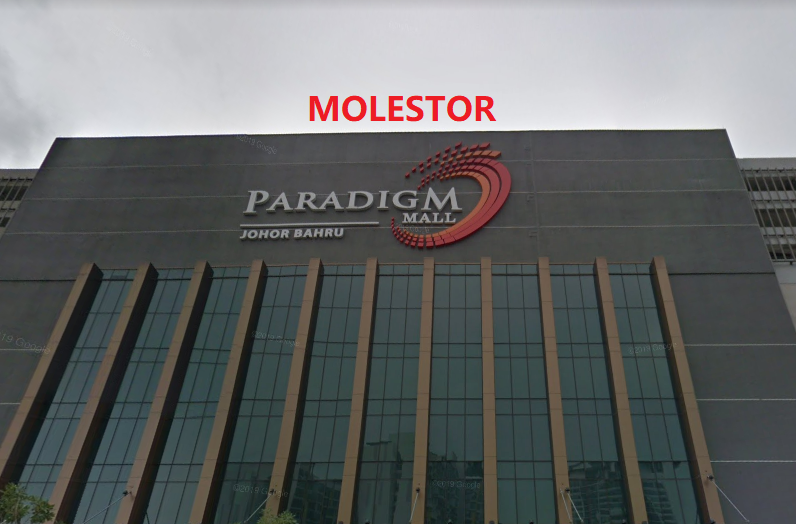 A woman shared her experience on how her she got molested while paying for her carpark fees and it seems like Mall security dont really give a damn.
Note: In most locations in Malaysia, you have to pay your parking at a kiosk then proceed to exit the carpark. Its not like our cashcard automatic deduct and gantry open.
Read her account below
⚠️⚠️⚠️⚠️⚠️⚠️⚠️⚠️⚠️⚠️
'Girls who like to go shopping alone should pay more attention to '
Incident happened on 20.10.2019, I love to go shopping Mall on the rest day. Today is no exception. I went to JB's Paradigm mall Grocery to buy something and I plan to go home. My car stops at the exit of UG Poh Kong, just right for me. After paying the parking fee at the exit of Auto Pay, an Indian boy came from the exit. He rushed to me quickly. I shouted at hold on tightly at my bag and I was scared.
He leap forward and fondle with my chest, I quickly ran to the exit of the parking lot.
The boy appears to be about 16 years old, slightly fat, about 155cm in height, with a black cap, a white top and dark gray pants.
I was afraid and dare not pick up my car alone. I went to Paradigm's Information Counter and explained what I went through. I asked to see CCTV want that perverted photo. I can put it on Facebook to let more people beware of him.
They said that I must report to the police station before I can do this .😡 (The victim asked to watch CCTV and couldn't 🤬🤬🤬 ) Then I said yes , I went to report.
I asked: Can no one take me to Report? I am almost scared to death 🥶🥶 Paradigm Mall people told me that there is no such service (I was thinking, such a big Mall, this happened, dont even their own security office)
I didn't dare to pick up the car myself. They sent me to the parking lot to pick up the car and watched me safely get on the vehicle.

When I left Paradigm Mall, I went to the police station in Skudai to report the incident. I repeated the incident and I asked the police to go with me to watch CCTV. I can take the man's photo on Facebook. The police officer said that even if I watched it. I can't take pictures too 🙄🙄🙄 They will investigate and call me to the police station to recognize people when they catch the suspect.
# can be forwarded to let friends around you⚠️
亲身经历'
'喜欢单独逛街的女生要多注意'
'从不曾遇过 却让我遇上'😑😑
今天20.10.2019 ,休息日我都爱到Shopping Mall逛逛,今天也不例外,我今天到Jb 的Paradigm mall Grocery买点东西就打算回家,我的车就停在UG Poh Kong出口处,正当我在出口处的Auto Pay付了停车费后,就从出口处的方向跑来一个印度男生,他快速的冲向我,我一吓心急就拉着包大喊,他就用他那变态的手向我的胸部摸下去,就迅速的往停车场的出口处跑去,年龄大概16左右、微胖、身高大概155左右、带黑色帽、白色上衣和深灰裤子(当时感到很害怕)就不敢独自取车。我就到Paradigm的Information柜台Report说事情的经过,我要求说看CcTV要那个变态的照片,我可以放在Facebook让更多人注意⚠️他们却说我必须先到警察局报案才能做这个动作😡😡(受害人要求看CCTV也不能🤬🤬🤬)那我就说好,我去Report(我已经被吓得六魂不见七魄)我要求说:没人可以载我去Report吗?我都快被吓死🥶🥶Paradigm Mall的人告诉我没有这样的服务(我就在想,这样大间Mall,发生这种事,没专属自己的警察办事处就算了)连这样的服务也没有🤬🤬🤬还收什么Parking Fee。我也不敢自己去取车,他们就送我到停车处取车,看着我安全上车。(在取车处他们也再从新问过一遍事情的经过)
离开Paradigm Mall我就到Skudai的警局报案,就重覆说刚才的事发经过,我要求警察和我一起过去看CCtV,我可以拍下该男子的照片放在Facebook,警员说就算看了我也不能把照片拍下🙄🙄🙄他们会调查,直到捉到嫌犯时叫我到警局认人。