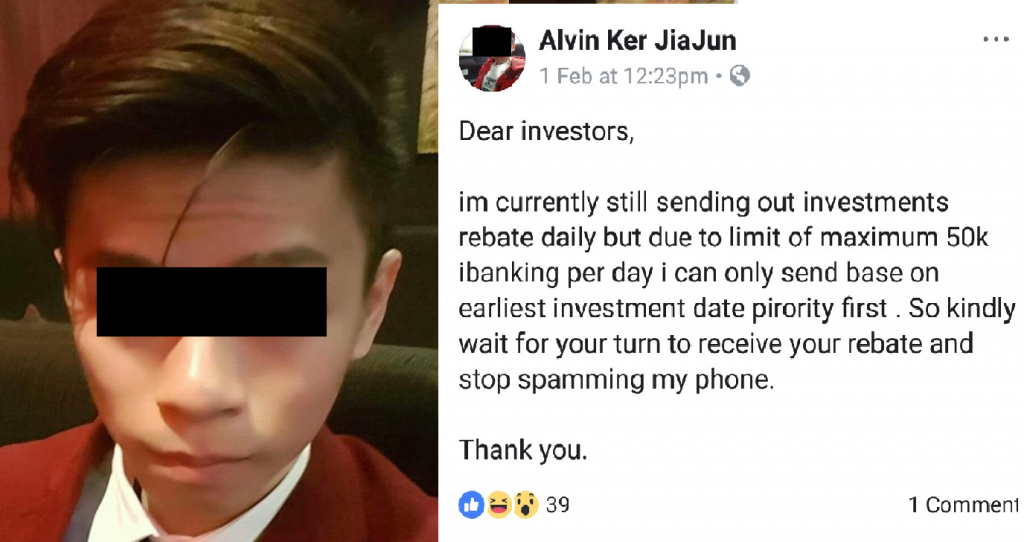 Singapore News – According to media reports, Alvin Ker Jia Jun 31-year-old managed to scam 62 people, he made multiple posts on Facebook offering investments that he claimed to have high returns. The total amount of scammed was over $503,988.
He informs investors that their profits will double after investing with him either in 3 months or after 1 year, he managed to convince many individuals including his friends to invest in investments that are non-existent.
After convincing the victims to transfer money to his account, he would then used the money to placed bets. If he won, he would have transfer part of his winnings back to his clients. Basically, he is "digging a hole to cover another hole".
One of the victims was scammed of $72,000 and only $17,000 was returned when Alvin Ker won his bets.
As time goes by, the victims started asking for their money back and he delayed them by using the excuse of "daily transfer limit" maxed out.
He eventually loses big in his bets and could no longer pay any "dividends" to the victims and he venture into looking more people to invest.
He was charged and convicted of cheating and sentenced to 4.5 years in jail.