In the vibrant community of HDBs, it's imperative to adhere to the regulations set by the Housing and Development Board (HDB). Unfortunately, instances of illegal subletting can disrupt the harmony of these living spaces, leading to unforeseen complications. Recently, a disconcerting incident unfolded where an Indian national illegally sublet their HDB unit to other foreigners, resulting in a disturbing confrontation with neighbors.
Introduction
In the heart of this incident lies a narrative of two nurses subletting a common room, leading to a late-night confrontation with a neighbor. This article explores the legal implications of such actions, the consequences faced by the master tenant, and the broader impact on community cohesion.
Here is what the "Master Tenant" said:
"We are master tenant and we rented our common room for two women , who works as nurse …so basically they have shift timings, and most of the time they cook at night after 11….same today they were cooking ….suddenly a man from the home below came up at 11:15 pm and starting banging the main door so loudly …
we felt like the door broke and fell down, such loud banging …..once we opened ….he started using vulgar words so loudly and screaming Soo badly ….the way he screamed , we can't even get what was he trying to say … all I could hear is f***ing word repeatedly …..we don't even understand what was his problem at all , we assumed that might be using kitchen S his problem …we have a 1 and half year old toddler …don't know what to do with this…..anyone please help us , what can be done on this situation ….should we do a police complaint??
But proof we don't have anything ..since it was complete shock I never record,only proof must be our neighbours …. Please suggest something it's vry scary …."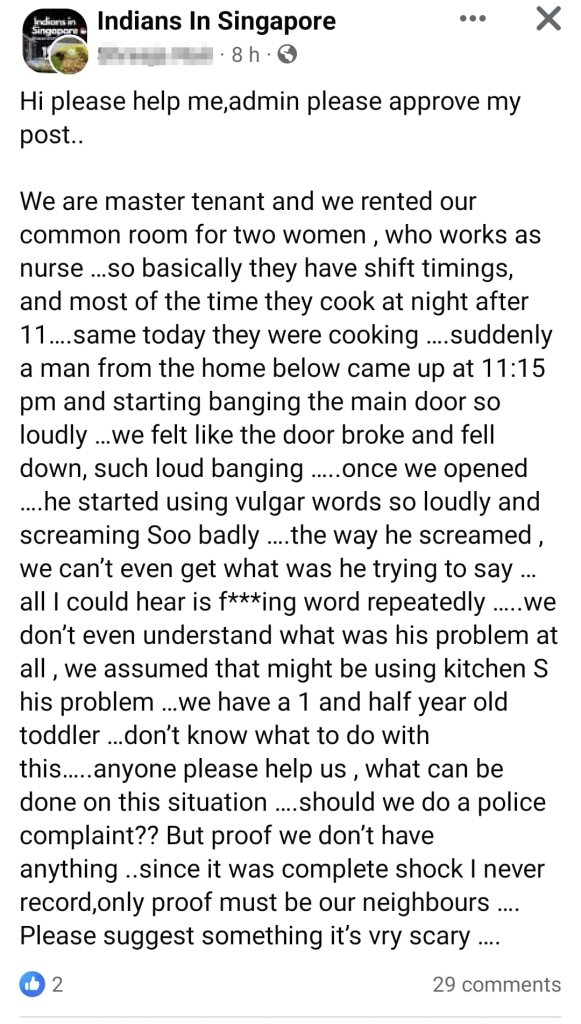 II. Understanding Subletting Laws in HDBs
Subletting, defined as renting out a part of one's HDB unit, comes with specific regulations. Eligibility criteria, approval processes, and responsibilities of the master tenant are crucial aspects to comprehend.
III. Legal Implications of Illegal Subletting
Delving into the repercussions, the master tenant faces legal consequences for violating subletting laws. Additionally, the disturbance caused to neighbors raises concerns about community well-being.
IV. The Story Unfolded
Details of the late-night incident involving vulgar language and screaming shed light on the potential reasons behind the neighbor's outburst.
V. Addressing the Immediate Concerns
Ensuring safety and seeking immediate solutions become paramount. This section explores the possibility of involving the police and communicating with the neighbor to resolve the immediate issues.
VI. Preventing Future Incidents
Establishing clear communication and respecting cultural differences are essential in preventing future incidents and fostering a harmonious living environment.
VII. Impact on Community Harmony
The importance of maintaining peaceful coexistence within an HDB community is discussed, emphasizing the role of neighbors in building a supportive environment.
VIII. Legal Recourse for Victims
For those facing similar issues, understanding how to report incidents to the police and seeking legal advice is crucial.
IX. The Role of Authorities
The HDB's stance on such incidents and the legal actions that can be taken by the authorities are explored to provide a comprehensive view of the situation.