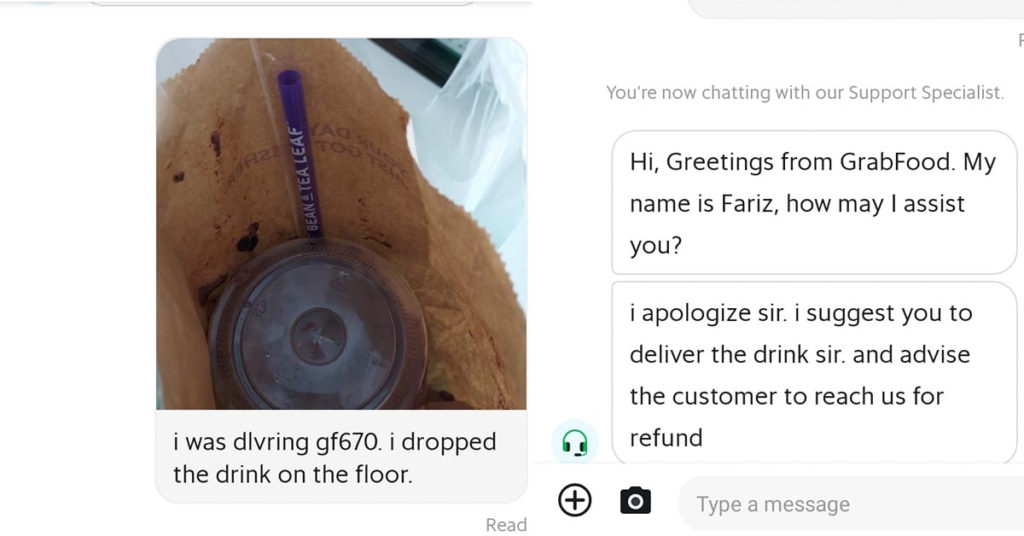 Yesterday I dropped the drink as I was taking it out of my grab bag. Been doing grab for 4 months and first time this happened to me so i was a bit anxious. I contacted cs and they informed me to dlvr and get the cust to contact grab cs.
I went up to the cust house and explained about the issue and told her it was my fault as I dropped her order. I offered to buy the exact same drink for her if she can wait or she can contact grab cs for refund if she cannot.
I think she saw that I was nervous and anxious so she say, "it is ok uncle. Is it alright if you get a replacement for me". I inform her ok.
I went back to coffee bean at lot 1 to place the order. When the cashier saw me, she ask me what happened? I told her the situation. She was sympathetic and say "uncle, u wait. I prepare fast for you". I make the payment and within 5 minutes she handed me two cups. She say "uncle. One is for the cust and the other one is for you". I was totally surprised and thanked her a lot for her kindness.
I cycled back to the cust house and she opened the door to collect her drink and thanked me for the dlvry and reassured me that it was no issue regarding the spilled drink.
So thank you to the coffee bean staff and to the customer who showed patience and understanding.