An incident in Thailand has shocked the country that a scammer like this exists.
A Thai woman who goes by the name "Bright" went as far as faking an ultrasound scan to prove that she is pregnant so that her targeted victim will take responsibility for her.
She would later ask his "husband" to give him a credit card and goes as far as stealing all his personal belongings.
The victim known as "Marsh" shared his story with the Thai media and story and it went viral.
Here is the story:
The victim "Marsh" is 32 years old who is a fitness trainer. He conducts lessons online and in-person and he has 200,000 followers on TikTok.
In June 2022, a woman named "Bright" (a pseudonym), 26 years old, added his LINE username to buy a 3-month one-on-one course, priced at 60,000 baht but said that she will pay in instalments.
Bright has a good personality talks well, appears to have principles, look trustworthy, dresses well, use brand-name products, have a luxury lifestyle and drives expensive cars.
The couple became close for a short time. Marsh saw Bright as a sweet, bright, good-natured and natural person. Even though she looks high-class on the outside, she's actually not arrogant. The two started going out to eat together. travel together and have had a deep relationship since the first week of knowing each other.
Fake Rich and Pregnant Story
Bright took Marsh on trips stating that she knows many tourist attractions in Bangkok and that she also eats luxury and stays in luxury, but in the first 1-2 months of being together, Bright barely spends any of Marsh's money. She pays most of her expenses.
Bright tells Marsh that she makes a living from her own brand of children's clothing that sells online. Earning her 3-4 hundred thousand per month.
After about 2 months of dating, Bright told Marsh that she was pregnant. along with the results of the pregnancy test. Marsh is very happy to be a father and is ready to take all the responsibility. After that, Bright continued to bring the ultrasound results to look at it, and all symptoms were similar to those of pregnant women.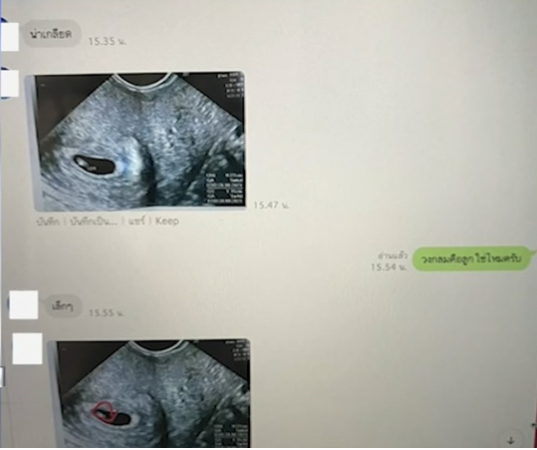 Later, the couple moved in together. But Bright said Marsh's room, which he rents for 4,000 baht a month, was too small. So she took Marsh to rent a condo for 18,000 baht per month, with Marsh paying the rent.
Marsh puts a lot of emphasis on Bright. From teaching 10 students a day, it was reduced to 4-5 students a day in order to have more time to spend with Bright. Saturdays and Sundays do not accept work in order to travel to other provinces together.
Rushed Marriage Registration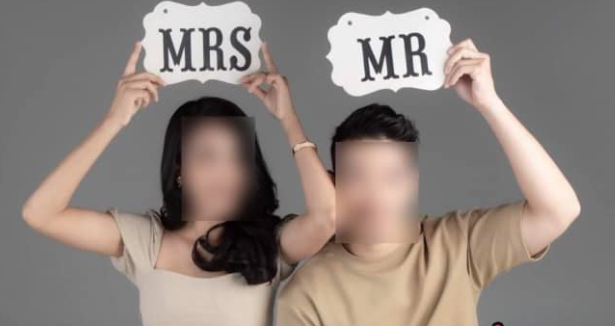 After learning that Bright was pregnant Marsh took two weeks off work to take her to meet his parents in Chiang Mai. which Bright got along well with his family.
While Marsh took Bright to visit his family in Chiang Mai, at the same time that the Subdistrict Administration Organization organizes a mini-marathon There were about 800-900 people in attendance, so Marsh invited Bright to run with him. After the run, various awards were given on stage.
Marsh took this opportunity to ask his father to arrange a surprise wedding proposal. by letting the MC announce that Bright won the photographer's favorite runner award. When Bright goes up to receive rewards Marsh went up, gave a bouquet of flowers and knelt down to propose to the stage. Marsh said this was a moment he will never forget.
After that, Bright asked Marsh to take him to Chiang Mai to register his marriage. He was surprised that she was in such a hurry. but agreed to take her to take a note as well They also took them together to take pre-wedding photos.
Credit Cards
From the very beginning, Bright barely spent any of Marsh's money. Now, she asked for his credit card to use. Claims that her card limit is millions. can't stop using Therefore, he will use his card with a smaller limit instead. Marsh then apply 3 credit cards for Bright to use, with a limit of 1 hundred thousand baht each. (About S$3740)
Bright used the card saying that at the end of the month she would pay for herself. She also requested a higher credit limit increase from the bank and she swiped more than 1 million baht from the card in 2 months but refused to pay the card fee.
Bright claims that her mother has cancer, Claims that they have to pay for some home renovations.
Marsh took a look at the list of cards Bright had spent and found that most belonging to women products including clothes, hai,r manicures, branded store and there are strange items such as car rental fees, and hairdressing expenses that are as expensive as 60,000 baht.
When Marsh had no money, he felt Bright began to distance herself. She began to disappear for a long time, such as 3 days, 5 days, 10 days. At the same time, she began to gradually remove personal items from the condo. She claimed to go to see her mother at the hospital. Marsh asked which hospital his mother was in, but she didn't tell.
Stealing from his home
Marsh was unfortunately hospitalised due to a car accident but Bright did not appear at all, his father had to fly from Chiang Mai to take care of Marsh.
When his father wanted to use Marsh's computer, he could not find it. Many items went missing, such as a MacBook Pro computer, a Sony video camera and a watch worth more than 2 hundred thousand baht.
Marsh asked Bright but she said she didn't take it. So he went to check the CCTV camera on October 5th, it turned out that Bright brought three men to unload their belongings from the room. It is believed that there was also Marsh's property.
Investigation
Marsh tries to investigate Bright, and learned that she has changed her name more than 10 time and she had 10 Facebook accounts. Has registered for marriage 3 times. Has 4 children. The first husband is a businessman. Also has children. The second husband is a government official and has one child, and the third husband is a doctor and has one child, all of them were treated the same way.
Bright's 3rd husband, who is a doctor, said he and Bright had separated a long time ago. Have some contact about children But did not follow other news. The doctor admitted that when they were together Bright used to cheat online. And used to take 2-3 watches of the doctor, but the doctor didn't want to talk about it.