Facebook user, Candy Mei Cui, who is apparently the admin of Cathay busker Jeff Ng's fan club (FC), shared in a lengthy Facebook post about how she got "pulled down" because she supports other singers that he hates.
Ng allegedly told her that "if you really supporting me, then stop supporting other singers," he added "your Instagram stories only can post my things".
Here is what she said
So sorry if this post super long .
As you all know there are alot of news on Jeff Ng this few days… I am here to voice out what a person is he…
I don't care if his friends or supporters are in my account…
I have been supporting him for few years already. I was his admin of his FC. I put in so much effort into his FC and ended up got pull down coz I go support other singers he hate. When I ask him the reason, he still can tell me if you really supporting me then stop supporting other singers. Your IG stories only can post my things. I was like it's my IG account, I want post what is my problem why must you care so much. Coz of this matter he unfriend me on Facebook so I unfollow him on IG.
Another incident… I still remember he tells me why your friend keeps supporting L. He is still young and have a bright future. I was like my friend want to support who is her freedom. Why must you care so much.
Still remember when he is singing at pubs or cafes… He always asks people stop requesting songs he don't know how to sing. He wants customers to hear him sing and you MUST clap for him after he done singing. If you don't do it, he will show his black face and he will be his anger on his keyboard. After performance, he will just stomp off.
After saying all this… I am super regret knowing him in my life. If he does not change, no pubs or cafes will hire it. Anyway, his life not mine. See how long he can perform at the Cathay. I guess it won't last long.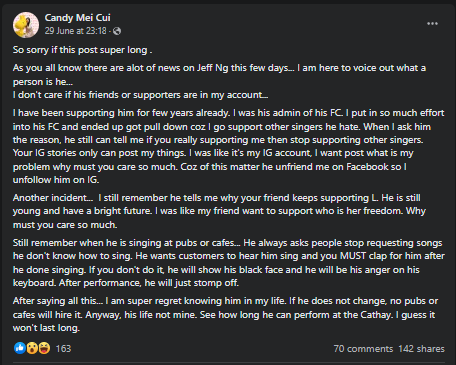 Related