A Facebook post by a local musician, Khim Ng, emerged online, exposing Cathay busker Jeff Ng for allegedly being "entitled", according to AsiaOne.
Here is what the musician said
Disclaimer alert : My post stands here as an opinion of mine. You can agree to disagree. Also, I did not post in any TIKTOK OR FORUM. Just in case , cos some tiktok fella linked me Imao.
This Jeff Ng thing is so perplexing . Especially for people in the industry.
I sincerely wanna feel happy for him for getting his " Respected Moment" n quick fame from busking. ( Gotta credit him for his hardwork in his craft, not to the extend of self proclaimed 0 but good enough to survive and do well.)
But then again all of us that "knows him" also can't stand his DIVA and entitled attitude in the music and live bar gigs industry. Talent is 1 thing, but work Ethics , self awareness and attitude to ANYONE AND EVERYONE is EVERYTHING to survive.
If he succeeds as an artiste, GOOD for him.
But 1 thing for sure, no major LIVE BAR outlets will dare to hire him. Because up till now, he still doesn't understand that, people go the bars with livemusic to ENJOY and PARTY with your music and their company of friends, not to WATCH UR CONCERT QUIETLY. They paid to enjoy.
Apparently he still SCOLDS patrons for "making noise" during his sets. ( evidently) I mean, there's no entitlement for any of us that's been in the scene LONGER than him to behave this way. So why should he be?
Bar owners will understand, as entertainers, our customer's fun and pleasure is our priority. Maybe the Busking scene does suits him cos its not a bar setting and no one is intoxicated with alcohol to "misbehave". And he deserves that love received with the right setting he is comfortable in. Kudos to that.
Will he succeed? If he does, good for him. If he doesn't, he brought it upon himself. No matter how he and his "fans" wanna help him delete n report negative comments(which are NOT UNTRUE), his bad behaviour be it in the past or now will come back and bite him again n again if he doesn't change or apologise.
Well….. what a guy… And all the best.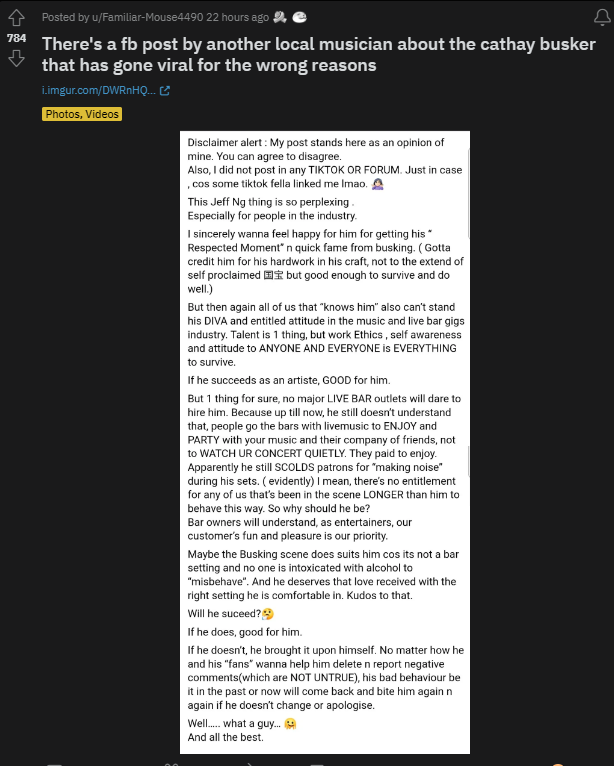 Other allegations emerged
Ng also purportedly wrote a lengthy Facebook post, blasting the sound crew following a performance at the Esplanade Concourse.
He described the sound crew as the "worst" and said that it will be his last time performing there "even if I make it big one day", before adding "unless they can guarantee they tour me around and give me the best sound".
Sources: Khim Ng via AsiaOne and Reddit Singapore, and Facebook
Related