Infamous Cathay busker Jeff Ng has been accused of buying Instagram followers in the wake of allegations of his self-entitled and unprofessional behaviour.
TikTok user @dylanamite shared a video showing the number of bots following his account, noting that the usernames of those "followers" consist of a string of random numbers and alphabets and generic profile photos with little to no followers of their own.
Before the myriad of allegations against him emerged, his follower count stood at under 80,000; but following the scandal, his followers have since increased to 141,000, allegedly through monetary means.
Responded to claims of buying followers
Ng issued a statement on his Instagram story denying the allegations of him buying followers, saying:
"Hello everyone, sorry but I saw a lot of messages telling me my Instagram account suddenly has many "bot accounts".
Thanks to those who noticed and let me know, I also just checked and confirmed that it is so. Facing this problem is perplexing and I don't know how to stop these bots from following me.
Sorry if this incident has generated questions and concerns from the public. Except for Instagram, my TikTok, Facebook and YouTube accounts appear to be normal.
Me and my team are trying our best to handle this issue, and want to thank those who follows me and are genuine fans of my music.
If anyone knows how to fix this problem, you are welcome to let me know."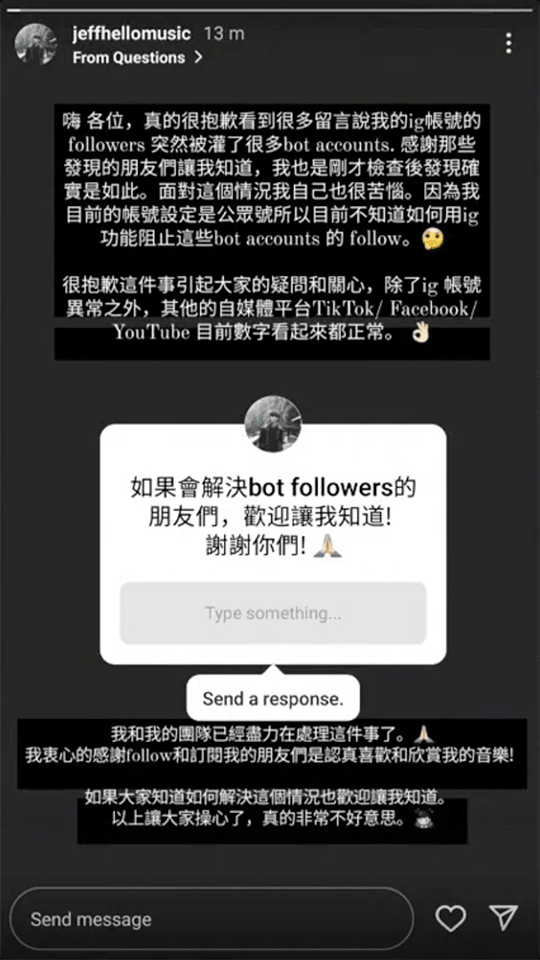 FULL VIDEO LOADING…
Related